By Richard Katsuda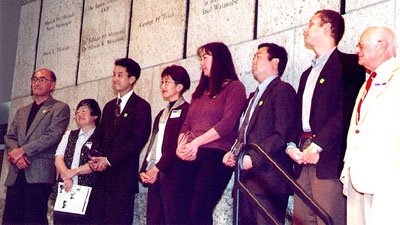 Volunteer lawyers who worked pro bono for redress, were acknowledged by NCRR. (Click on the image to enlarge).
As a team, we have filed four lawsuits in the Consolo/Ishida category of redress claimants. These claimants are children born after their parents had "voluntarily" left the West Coast or left camp. After a lawsuit by Linda Consolo, in which her attorney, Gerald Sato, successfully argued that Ms. Consolo had been prohibited from returning to her domicile (in legal terms her fixed, permanent residence, the same as her parents' legal domicile on the West Coast), the Office of Redress Administration (ORA) made claimants in this category eligible for redress. ORA, however, set an eligibility cutoff birth date of Jan. 20, 1945 by arguing that, because the last main order rescinding exclusion from the West Coast took effect on that date, anyone born after that date was no longer legally prohibited from returning to their domicile.
To challenge ORA's argument, the legal team filed four cases. Carole Song, represented by Lisa Ikemoto, won her case and was awarded redress. Ms. Ikemoto successfully argued that Ms. Song's parents had received inadequate notice of the rescission order.
Carol Higashi, represented by Julia Mass and Scott Yamaguchi, recently lost her case before the U.S. Court of Appeals for the Federal Circuit. The cases for Wendy Hirota, represented by Alex Fukui and Patrick Hattori, and for Robert Murakami, represented by John Ota (an NCRR member in the San Francisco Area), are pending.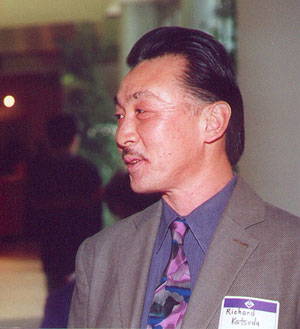 Richard Katsuda co-chair of NCRR Los Angeles speaking at day of remembrance.

NCRR has also been supporting the Campaign for Justice for Japanese Latin Americans. Please see the enclosed information sheet for more information.