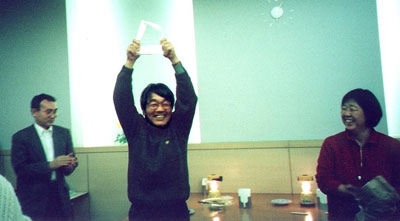 Ken Arimitsu of Tokyo's Citizens Fund for Redress and Kathy look on as Akinori Fukuda of the Hanaoka Support Committee joyfully accepts the congratulatory plaque from NCRR. (PHOTO BY AYAKO HAGIHARA)


The forum, titled "Report on the Kajima/Hanaoka Trial and Memorial Gathering," was held to announce and report on the settlement agreement between eight Chinese former mine workers and Kajima Corporation, marking an important milestone in the ongoing struggle by the Chinese survivors, their attorneys and community-based support organizations in demanding an apology and reparations from international general contractor and hotel conglomerate Kajima Corporation.
NCRR and the Committee had worked together to not only educate each other's constituency about the Chinese forced laborers but also to support each other's campaigns against Kajima.
According to the settlement, Kajima will provide 500 million yen (approximately $5 million) to a redress fund that will be administered by a Management Committee whose members are appointed by the plaintiffs and will provide reparations to survivors and heirs of deceased laborers toward their welfare and education.
Between 1944 and 1945, 986 Chinese men were captured by the Japanese military and taken to Kajima-owned Hanaoka labor camp in the city now known as Oodate, located in northern Japan. Forced to perform hard labor in the mine for over 12 hours a day, the workers were not fed or clothed adequately and were regularly beaten.
When they could no longer stand the abuses, leader Geng Zhun declared, "Rather than sit and wait for death, we must stand up and strike," and on June 30, 1945, the workers revolted. The workers escaped off the mine but were soon captured and hundreds of Chinese laborers were tortured to death. In all, 418 Chinese were killed at the Hanaoka mines.
Upon returning to China, Geng and others formed the Hanaoka Victims Federation ("the Federation"). After gaining the support of attorney Takashi Niimi and a community organization, the Committee on Chinese Forced Labor ("the Committee"), the Federation began negotiations with Kajima for a sincere apology, development of Hanaoka Memorial Halls in Oodate and Beijing, and reparations of 500,000 yen (approximately $5,000) each to all 986 laborers and their heirs.
On Jul. 5, 1990, the Federation (represented by Geng and Niimi) and Kajima produced the Joint Announcement wherein Kajima accepted the forced labor at the Hanaoka mines "as a historical fact and that [Kajima] bears responsibility as a corporation." Furthermore, Kajima vowed to continue negotiations in the spirit of the late Communist Party leader Zhou En-Lai: "Preparing for the future by not forgetting the past."
Despite this promising start, negotiations were drawn out for over four years, and finally, on May 3, 1995, were called off. On Jun. 28 of that same year, Geng and ten others filed a suit in the Tokyo district court demanding reparations from Kajima.
After 14 months, 20 official settlement negotiations and dozens of heated arguments, both parties agreed to the settlement agreement announced publicly on Nov. 29, 2000.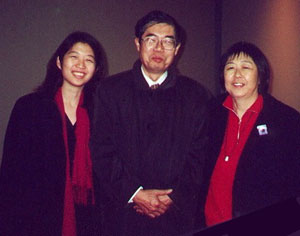 Takashi Niimi appears with Kathy Masaoka and Ayako Hagihara of NCRR.
"The settlement agreement begins with a reconfirmation of the 1990 Joint Announcement. Then Kajima states that it bears no legal responsibility and that the plaintiffs take note of this statement.
"During the negotiations, the plaintiffs wanted most of all for Kajima to admit responsibility. But Kajima resisted this blanket statement and came back with the proposal that Kajima admits moral but not legal responsibility.
"The judge and plaintiffs refused to accept this statement. We had to phrase the proviso in a way that allowed Kajima to make such a statement but did not connote acceptance or agreement on behalf of the plaintiffs."
Niimi also explained another controversial section that states in part that this settlement "confirms the resolution of all claims against Kajima by the appellants and other like victims and their heirs" and that all those parties "relinquish further rights to sue Kajima in Japan or other regions of the world."
Niimi explained that other victims will only become party to the suit at the time they receive any money from the redress fund. If they do not accept, they could still bring suit of their own.
"Although this provides funds for the entire group [of Chinese laborers at Hanaoka], this settlement agreement is only between Kajima and the 11 plaintiffs."
Present at the forum was Wan Hong, daughter of Wan Ming, one of the plaintiffs who passed away one week before the settlement was achieved.
"The war tribunal court declared the Japanese supervisors at Hanaoka guilty of torture and abuse. Whether or not Kajima admits legal responsibility, the law has sided with us," stated Wan passionately.
"Life cannot be bought by money. Money is only a way for Kajima to try to erase the past. But truth will always remain."
In late November, Niimi and others visited the plaintiffs in Beijing to report on the settlement proposal. Upon agreeing to the settlement, Geng wrote the following poem on a large canvas and had it signed by the other seven surviving plaintiffs: