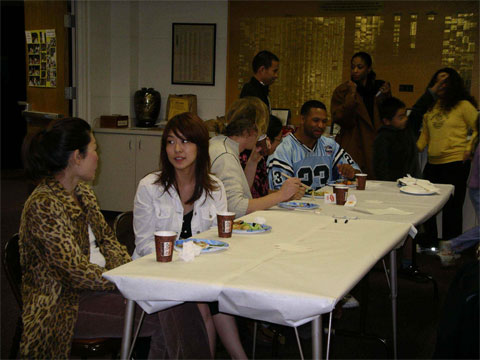 With a Buddhist incense offering and Islamic call to prayer, more than 200 people gathered last week in Little Tokyo to break bread with Muslims during their holy season of Ramadan and strengthen bonds among diverse faith communities.

The Nov. 6 event marked the Nikkei community's fourth annual Ramadan celebration, which was first organized after the Sept. 11, 2001 terrorist attacks prompted some Japanese Americans to reach out to Muslims and Arab Americans. Kathy Masaoka of Nikkei for Civil Rights & Redress said many Japanese Americans were uneasy that the hysteria that led to the mass internment of their community during World War II could be repeated against Muslims and Arabs during the 9/11 war on terror.

"Our experiences as Japanese Americans parallel what the Muslim community is going through today," Masaoka said. "I think Japanese Americans feel the fear and understand what can happen when people are targeted for appearing to be from another country."

Referring to the internment, Masaoka added: "Some people say it can never happen again. But when 9/11 occurred, we realized it could happen again (to Muslims) and that became a very frightening thought."

Shortly after 9/11, Masaoka's group held a candlelight vigil in support of Muslims, Arabs, South Asians and other communities vulnerable to backlash. A few months later in December, the Nikkei group organized the first gathering with the Muslim Public Affairs Council to break the Ramadan fast at Senshin Buddhist Temple in Los Angeles. During Ramadan, a month-long season of intense reflection and prayer, Muslims fast from dawn to dusk in a religious practice considered to be one of the five pillars of Islam.

Although Senshin hosted the first three gatherings, organizers moved the event to Little Tokyo this year to broaden their outreach, inviting Jews, Protestants, Roman Catholics and Native Americans to participate. Higashi Honganji Buddhist Temple hosted an interfaith panel discussion on "Communities Under Siege, Keeping the Faith," and an intercultural potluck dinner and entertainment program took place afterwards at Centenary United Methodist Church.

At the panel discussion, moderated by Kei Nagao of Southern Californians for Youth and Edina Lekovic of the Muslim council, several speakers expressed anguish over the Iraq war and the Nov. 2 election results.

Imam Saadiq Saafir of Masjid Ibaadillah in Los Angeles said the war on Iraq violated Islamic principles holding all life sacred, particularly since so many innocent civilians were being killed. The Rev. Nori Ito of Higashi Honganji presented the Buddhist perspective on war, saying human ignorance was regarded as the cause of all violence and injustice. Father Michael Kennedy of Dolores Mission Catholic Church in Boyle Heights, stressing the need for concrete action to promote social justice, said some of his parishioners had protested the war through a 40-day fast, taken up a collection for Iraqi schoolchildren and risked arrest during anti-war acts of civil disobedience at the U.S. federal building downtown.

Rabbi Naomi Levy of Nashuva, a groundbreaking Shabbat service in Los Angeles, called for healing and a more passionate effort by religious progressives to promote an understanding of God as a force for peace, compassion and understanding rather than condemnation. Moses Mora, a Mexica Sundancer who offered the gathering's Chumash Indian welcome song, described the Native American community's role in promoting social justice, women's rights and environmental protection.

And the Rev. Mark Nakagawa, Centenary's senior minister, outlined his United Methodist denomination's history of civil-rights activism, including its desegregation efforts by such luminaries as Rosa Parks, and its early endorsement of the Japanese American redress and reparations movement.

Afterwards, participants feasted on an intercultural buffet of sushi and hummus, pita and potstickers, noodles and salads. An evening program, emceed by Latino writer Ruben Guevara, featured taiko drumming, Dolores Mission's youth poetry about immigration raids, an Islamic Sufi-inspired dance piece and a performance about Buddhism and the internment. Performing artist Nobuko Miyamoto of Great Leap, Inc. led the crowd in a circle dance and sacred moon song featuring the words for peace in Hebrew, Japanese, Spanish and Arabic.

In closing remarks, Salam Al-Marayati of the Muslim council thanked the Japanese American community for its support, friendship and historical civil-rights struggles that he said made Muslims safer today. "We stand on your shoulders," he said.