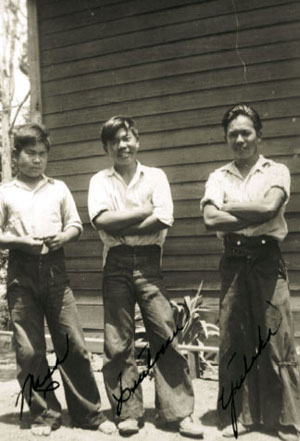 (NORTHRIDGE, Calif., Nov. 12, 2004) — Seven Asian American Studies students at Cal State Northridge are on a high stakes treasure hunt. Armed with video recorders, pens and pads, they are collecting the untold stories and hard-to-find photos of Japanese Americans who lived in the San Fernando Valley prior to World War II.

What they have recorded will be on view in a public exhibition set for 5:30 p.m. Tuesday, Nov. 30, in the university's Campus Theatre on the southwest corner of the campus at 1811 Nordhoff St. in Northridge.

The rare photos and vignettes in "Telling Our Stories—Japanese American Experiences from the 1910s to the 1950s in the San Fernando Valley," cosponsored by the Chicano/a Studies and Women's Departments, focus largely onthe lives of some of the 3,200 Japanese Americans who resided in the Valley during the pre-war period—some of them on farmland now occupied by the university.

For two semesters, Asian American Studies professor Chen and her students have been on a mission to gather for exhibition all the stories and documents they can while they can. They are aware that time is not on their side.

"We can assume that the generations who lived during that time are not going to be with us much longer," said senior Peter Ngotngamwong. "It's important that we get their histories before it's too late."

A film called "Stand Up for Justice: The Ralph Lazo Story" will be screened at the exhibition to highlight the close relationships between Japanese Americans and Mexican Americans in the pre-war Valley and larger Los Angeles community. Lazo, a Mexican American high school youth, voluntarily accompanied his Japanese American friends to the Manzanar internment camp. He later earned a master's degree in sociology from CSUN and went on to become a counselor at Valley State. Chicano Studies professor Roberta Orona Corona assisted with writing the script of the film.

Following the film will be a Question and Answer session with the filmmaker, John Esaki of the Japanese American National Museum, producer Amy Kato of Visual Communications, members of Nikkei for Civil Rightsand Redress who were also involved in making of the film and are designing a curriculum guide for secondary schools based upon this fascinating story.