NCRR and other groups, remembering the Nikkei WWII internment experience, warn against scapegoating Muslim and Arab Americans

By Takeshi Nakayama
Rafu Acting Editor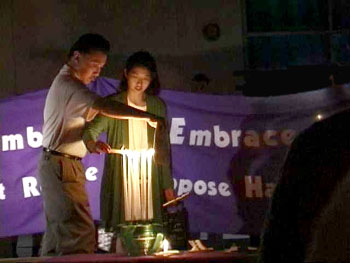 NCRR co-chairpersons Ayako Hagihara and Richard Katsuda, light candles during vigil.
An estimated 250 people participated in a candlelight vigil and memorial ceremony Friday night in Little Tokyo to pay tribute to the victims of the Sept. 11 terrorist hijackers in New York City, Washington, D.C., and the passengers and crew aboard the plane that crashed in western Pennsylvania.

The event initiated by the Nikkei for Civil Rights and Redress (NCRR) began with a candlelight memorial procession that marched from the corner of First and Alameda streets around the block to the front entrance of the Japanese American National Museum's Pavilion at First Street and Central Avenue. Participants observed a moment of silence for the more than 6,000 people of many nationalities who died in the hijacked planes and in the World Trade Center and the Pentagon.

Ayako Hagihara, NCRR co-chair and emcee for the event, said the purposes of the event were "to mourn for the victims and express sympathy to their families, but also because of the reactions that followed (the terrorist attacks) reminded us so much of the Japanese American wartime experience. "We wanted to bring that to public awareness and encourage people to reflect upon themselves and not make rush decisions, and to promote tolerance and understanding," she explained. "Knowing what we went through, we wanted to make sure that the civil liberties of the Middle Eastern Americans are protected.

"For some of us, Sept. 11 has brought back memories of our own community's experience after Dec. 7, 1941 --- Pearl Harbor," she said. "We became more alarmed as we heard of the attacks and hate crimes against people who wee of Middle Eastern or South Asian descent. We are hearing again the call for internment of individuals and are reminded of the World War II camps where 120,000 Japanese Americans were imprisoned.

"We have many lessons to draw on from the camps… We learned that we must safeguard our civil liberties especially in times of perceived threats to national security and we learned that we must support others who face discrimination because of their ethnicity or race," said Hagihara, emcee for the event.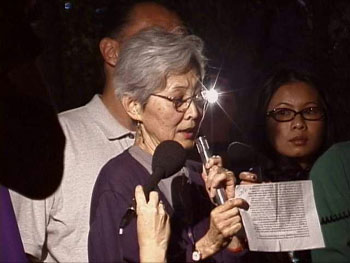 Lilian Nakano address's vigil.

Lillian Nakano, said of the terrorist attacks and the aftermath, "This is so shocking, so many lives lost. And so much anger turned toward people of Middle Eastern descent." Nakano, who spent the wartime years in a U.S. concentration camp for Japanese Americans at Heart Mountain, Wyoming, said the situation reminded her of how Japanese Americans "were rounded up and herded into concentration camps, all on the basis of our skin color, because we looked like the enemy."


An important lesson learned from the Nikkei redress campaign, Nakano said, was to "speak out against the singling out of any group of people," such as the hate crimes now being perpetrated against Muslim and Arab Americans.

Omar Ricci, board member of the Muslim Public Affairs Council, recalled, "On the morning of the Sept. 11, feeling shock at what happened, one of my very first thoughts was of the experiences of the Japanese American community during World War II and what they went through. I thought `Would my family be uprooted, would our patriotism be questioned?'

"Because of what happened to Japanese Americans during World War II, we are not facing the same thing," Ricci, who is of Italian and Pakistani ancestry, told the audience. "It is because of you that Americans have been taught a lesson."

Richard Katsuda, co-chair of NCRR-LA, told the Rafu Shimpo, "The terrorist attacks were a real shocker, it was terrible. We feel this event is a way for the Japanese American community to come together to say We feel the sorrow and want to remember what happened to the victims on Sept. 11."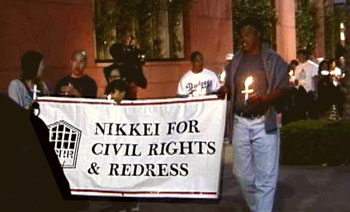 "At the same time we feel that, as the Japanese American community, we know all too well what happens during times of crises ---war hysteria and all – and we felt that it was very important for us to speak out …We also want to embrace the Muslim and Arab American community and let them know we feel their pain and we want to do whatever we can do to join with them to counter possible hate crimes or scapegoating that might result," Katsuda said.

Rai'ad Faraj, public relations director for the Council of American-Islamic Relations, participated in the program to "thank the Japanese American community for the support and empathy with the Muslim American and Arab American communities in the aftermath of terrorist attack on Sept. 11." Faraj, originally from Palestine,said, "I feel extremely horrible about the terrorist attacks. It's a heinous crime that for me as a Muslim, I completely condemn. There is no justification for this tragedy based on any religious or political beliefs whatsoever. It's an attack on all of us as human beings."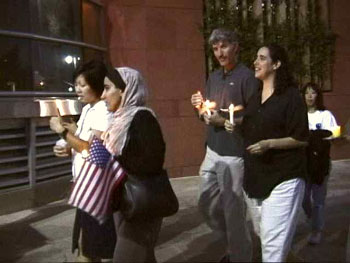 It is "unfortunate," he said, that there have been some hate crimes incidents, including the murder of an Egyptian Coptic Christian in San Gabriel, but added, "Nonetheless, we have received overwhelming positive response… people embracing (Muslim and Arab Americans) and alleviating their fears. That's a very positive sign. I hope out of this tragedy our whole community will come together, work together and cooperate together to build a better place for all of us."

Along with NCRR, co-sponsors of the event included the American Arab Anti-Discrimination Committee-West Coast Region, Council of American-Islamic Relations, Pacific Southwest District of the Japanese American Citizens League (JACL), Japanese American Cultural and Community Center (JACCC), Japanese American National Museum, Little Tokyo Service Center Community Development Corporation, and the Muslim Public Affairs Council.