Imagine being the target of an intense three-and-a-half year investigation by the Department of Justice's inspector general into every aspect of your work and personal life. How would it feel to be interrogated by the IG for an entire week and to have your name and good reputation smeared in the national press by the unsubstantiated accusations of a disgruntled former employee?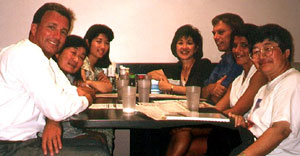 Bob Bratt, left, with NCRR members after the Aug. 8, 1988 commemoration of the sunset of the Civil Liberties Act. (PHOTO BY JANICE YEN)
The government's main accusation involved Bob using his position to help two Russian women to get visas. Bob responded by taking a polygraph test on his own accord. The results support Bob—he scored a 99.9, the highest possible. The IG also questioned Bob's use of frequent flyer miles accrued during department business, and his upgrades from coach to business class travel. Bob responded to these charges and is waiting for the government's response to his polygraph test and his rebuttals.
Recently, Bob's lawyers requested some documents through the Freedom of Information Act. The government refused to give him the information which could help his case. His lawyers will continue to press for the documents, so their fees keep mounting.
Bob has already spent over $70,000 in legal fees to defend himself against the IG's charges when even a DOJ spokesperson stated in Sept. 2000, that the alleged conduct "didn't meet the threshold of a violation of federal criminal statutes."
Some of Bob's supporters during this ordeal, in addition to NCRR/Los Angeles members, include Sox Kitashima, Carole Hayashino, Jonathan Kaji, Bill Kaneko, Aiko & Jack Herzig, William Hohri, Carol & John Saito and Rita Takahashi.
In order to help our friend, NCRR and JACL/PSWD ask the community to contribute to Bob's legal defense fund. Donations can be made to "NCRR" (put Bob's name at the bottom of the check). Donations are tax-deductible and can be sent c/o NCRR, 231 E. 3rd St. Ste. G104, LA, CA 90013.
For more information, call NCRR at (213) 413-6537.