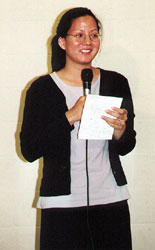 Alberta Lee, daugher of Dr. Wen Ho Lee, was the keynote speaker at DOR 2001
Nikkei for Civil Rights & Redress (NCRR), the Japanese American Citizens League (JACL), and the Japanese American National Museum (JANM) held a Day of Remembrance on Saturday, February 17, 2001, to commemorate the signing of Executive Order 9066 by President Franklin D. Roosevelt on February 19, 1942. This order authorized the evacuation and incarceration of all Japanese living on the West Coast. This year's theme was "building a stronger community through civil rights and redress," and the event focused on 1) the unfinished business of obtaining redress for the Japanese Americans that suffered from the consequences of the incarceration almost 60 years ago and 2) the need to redress injustices currently affecting our communities today.


Japanese Latin Americans


During World War II more than 2,000 Japanese Latin Americans were kidnapped from their homes in Latin America for use as hostage exchange for Americans captured by Japan. Their passports and identification papers were confiscated by the United States, they were imprisoned in the United States until the end of the war and then many were deported to Japan as illegal aliens. They were not allowed to return to their Latin American countries and very few were allowed to remain in the U.S.

Although Nikkei Latin Americans against the U.S. reached a settlement agreement in the Mochizuki vs. United States class action lawsuit, the amount awarded to compensate each claimant was $5,000, much less than the $20,000 reparations paid to Japanese Americans.

"Over 2,000 Japanese Latin Americans were uprooted from their homes and forced into internment camps in the United States. This group was unfairly overlooked when Congress addressed the abuses by our government against Americans of Japanese ancestry during World War II. These individuals are still waiting for equitable redress and justice cries out for them to receive it," Rep. Xavier Becerra stated

"When I first learned of (the wartime experiences of) the Japanese Latin Americans and Japanese Americans…it seemed unfathomable…but indeed it happened. It is part of our history. It is up to us to…absolve our country of that wrong," he said.

Karen Parker of San Francisco, who is representing Japanese Peruvian Isamu Carlos Arturo "Art" Shibayama and his brothers Kenichi Javier and Takeshi Jorge Shibayama, said, "I was so shocked about how serious the crime was committed against Japanese Latin Americans."

The Shibayama brothers did not agree to the settlement in the Mochizuki case because they didn't think Japanese Latin Americans should receive $5,000 while their fellow internees, Americans of Japanese ancestry, get $20,000 each, Parker explained.

She charged that what the U.S. did in abducting Japanese Latin Americans to this country to be used in hostage exchanges with Japan was, according to all existing international laws, "war crimes on the highest level."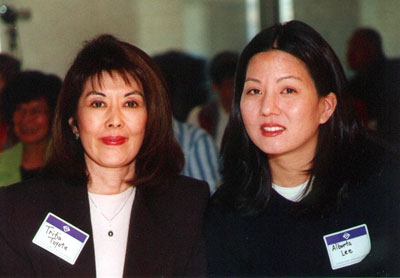 Trisha Toyota and Alberta Lee


Wen Ho Lee Case

Keynote speaker of this year's DOR was Alberta Lee, daughter of Wen Ho Lee, noted Los Alamos scientist who was imprisoned without a trial for more than eight months on charges of mishandling U.S. nuclear secrets.

Ms. Lee, 27, who took Asian American studies while at UCLA and learned about the World War II internment of Japanese Americans hadn't been involved in Asian American movements after college because, she said, "I thought that was in the past, I didn't think racism affected me…Boy, did it come back to bite me."

Lee said she didn't really draw a parallel between the targeting of her father by the U.S. government and the Japanese American experience—although JAs were the first to come forward and help her father—until she attended a fundraiser in Minneapolis and heard David Mura read a poem his father wrote to his mother while they were in separate camps during WWII.

Just as Mura's father was isolated and silenced in the poem, "I realized that my father was silenced, and is still silenced," she commented.

"Seeing you all here, I have hope that some day our family name will be cleared, some day we will get reparations," she declared.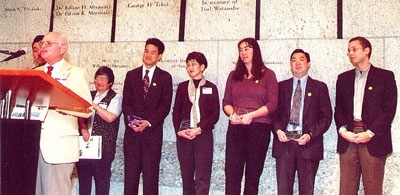 Pro bono lawyers receive awards at day of remembrance. (Click on the image to enlarge).

Pro Bono Lawyers


Also acknowledged were 13 Southern California lawyers involved with redress lawsuits: Alex Fukui, Lisa Ikemoto, Scott Yamaguchi, Julia Mass, Patrick Hattori, Reggie Chun, Robin Toma, Paul Mills, Bruce Iwasaki, Manjusha Kulkarni, Christopher Prince, Fred Okrand and Gerald Sato. These attorneys were recognized for their community work on behalf of Japanese Latin Americans and many former Japanese American evacuees who were denied redress.

Richard Katsuda, co-chair of NCRR Los Angeles, lauded the volunteer lawyers, many of them recruited by the Japanese American Bar Association (JABA) who worked pro bono (without fee) to try to obtain redress for those Nikkei who were denied compensation on bureaucratic or legal technicalities.

"The Japanese American and Japanese Latin American communities are fortunate to have such dedicated lawyers working for them," Katsuda emphasized.

Fukui, one of the JABA attorneys and a co-coordinator of a group of legal cases said, "What made the project really special for the JABA attorneys was the widespread community collaboration (including historians, researchers and law students). We feel very privileged to be able to contribute in our small way. And we hope to continue to be partners with everyone in the community in our continuing fight for redress."

Fred Okrand, legal director emeritus for ACLU of Southern California, said, "This has been a great moment in our lives. It has been such satisfaction to work for a cause like the Japanese Latin Americans and the Japanese Americans. All I can say is few lawyers get the chance to do this kind of work and I'm grateful that I did."


Awards


Another feature of this year's Day of Remembrance program was the honoring of community leaders Alan Nishio, one of the founders of NCRR, and Dr. Mitchell Maki, who co-wrote "Achieving the Impossible Dream: How Japanese Americans Obtained Redress."

Nishio received NCRR's Fighting Spirit Award while Maki was presented JACL-PSWD's Community Acievement Award.


This article was reprinted almost in its entirety from The Rafu Shimpo newspaper.