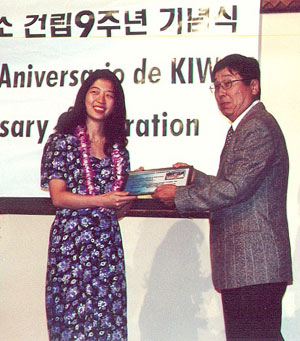 NCRR members filled two tables at the 9th annual Korean Immigrant Workers Advocates (KIWA) dinner to applaud Ayako Hagihara as she received a KIWA Solidarity Award. Ayako, co-chair of NCRR, was honored for her work in support of KIWA and for her organizing work in the Japanese American community.

KIWA is a relatively young organization that has energized immigrant workers in Koreatown to fight for their rights in the workplace (check out the Elephant Snack article). Wages as low as $2.20 an hour and workweeks of up to 72 hours have been found in unscrupulous Korean restaurants. KIWA's staff of organizers and attorneys provides needed legal advice and organizing assistance to Koreatown workers.

Ayako has supported KIWA in its various campaigns as an advocate of workers in the Korean community. Besides attending weekly pickets in front of Korean restaurants that have violated wage and working conditions laws, Ayako has kept NCRR's membership informed about KIWA campaigns through her many e-mails to us. She is one of NCRR's representatives to the Summer Activist Training (co-sponsored by KIWA, Thai CDC, the Pilipino Workers Center and NCRR), which provides leadership-training skills to young people interested in organizing in their communities.

Ayako has been an activist since her college years at UCLA. She was active in the Asian Pacific Coalition, and as a participant in SAT, received an internship with NCRR. As an intern she helped the Redress Committee locate World War II era papers—some of which were written in Japanese.

After graduation from UCLA, Ayako became a member of NCRR and tirelessly helped NCRR and the Campaign for Justice fight for redress for those who were denied compensation by the Office of Redress Administration. As a community organizer at the Little Tokyo Service Center Community Development Corporation she has continued her activism. In addition to co-chairing NCRR, she remains active with SAT and the Pacific Southwest District Japanese American Citizens League (PSWDJACL) Civil Rights Committee. NCRR's Little Tokyo Concerns Committee has benefited from her insights into the Little Tokyo community.

As a token of our sincere congratulations to Ayako for being honored by KIWA, NCRR presented Ayako with a pendent made with the Japanese character, seigi (justice in English). CONGRATULATIONS AYAKO!