NCRR continues to work with Campaign
for Justice, Redress Now for Japanese Latin Americans! Efforts to push the Wartime Parity and Justice Act of 2001 have gotten bogged down, and Campaign for Justice (CFJ) is looking into how to reenergize our supporters in Congress. This legislation would resolve the remaining redress issues for Japanese Americans as well as Japanese Latin Americans. CFJ
members met with one of Dianne Feinstein's top aides in order to encourage Senator Feinstein to take a leading role in the Senate. In addition, CFJ plans to meet with Representative Xavier Becerra (D-CA), who initiated the bill in the House of Representatives, and with Senator Daniel Inouye (D-HI), who introduced the bill in the Senate.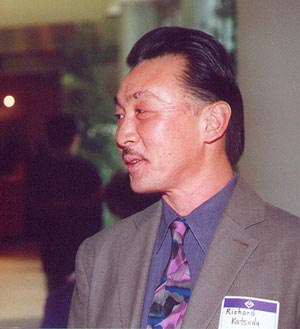 Richard Katsuda

In the courts, Isamu "Art" Shibayama
and his two brothers, represented by Karen Parker, still await a ruling in their case, in which they sued for full redress and other demands regarding mistreatment and suffering of Japanese Latin Americans.

Robert Murakami, represented by John Ota, is a member of the category of Japanese American children born after their parents had left camp. Murakami asserts that his parents were not realistically free and able to return to their West Coast home. His mother was eight-months pregnant at the time his father received a rescission order on his individual exclusion.

The judge had sent the case back to the Department of Justice (DOJ) for reconsideration. But the DOJ again denied eligibility to Murakami, saying that the fact that the Murakamis did not return to California for several years afterward is evidence that it was a "personal decision" not to return to California earlier and not a result of government action. Attorney Ota believes the DOJ has disregarded the judge's order and plans to ask the court to overturn the decision and order the DOJ to declare Murakami eligible.