By Mike Yanagita and
Kathy Masaoka

Since the candlelight vigil in Little Tokyo, the NCRR 9/11 Committee has been actively developing closer relationships between Muslim and Arab American community organizations. Aside from the "Break the Fast" event at Senshin Buddhist Temple, in early December we joined the Burbank/Glendale chapters of MPAC at a picnic in Sierra Madre. Reverend Mas Kodani invited the attendees to the Senshin obon in July and a few were able to join the dancing. MPAC also invited our members to its Awards Dinner where individuals were recognized for their contributions to positive media images of Muslims. NCRR was thanked for its support of the Muslim community.

We have been involved in an ongoing process of educating ourselves and people in our own community about the issues facing Muslim and Arab Americans. After the Day of Remembrance program, "l942 and 2002 - Without Due Process," the committee sponsored a program on peace in the Middle East with Kamal Abu-Shamsieh, an Israeli speaker, Yosshi Khen and Cr. Mahmoud lbrahim of Cal Poly Pomona who explained the history of the current conflict and the efforts to establish a lasting peace. We hope to better understand these issues so that we may be a viable force in protecting and ensuring the civil liberties of all people and help promote peace in the Middle East.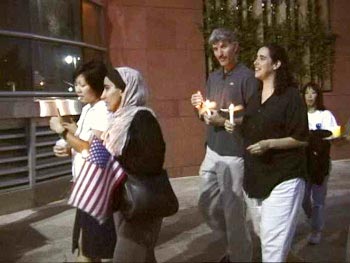 Little Tokyo candle lite vigil for the victims of 9-11.