Open Forum Commentary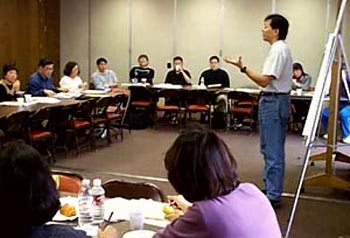 Community meets to discuss plans for rec center
The redress and reparations campaign and the current campaign to build a recreation center in Little Tokyo on First Street North have a lot in common. When the Rafu Shimpo surveyed the community on the question of whether people wanted individual compensation, an overwhelming 89% of the community responded in favor of it. Today the vast majority of the Japanese American community favors a Rec Center in Little Tokyo and supports a plan that can include both the Rec Center and an Art Park on First Street North. Of course there were those who opposed redress and said that it would never happen. There are those who oppose the Rec Center and say it cannot be built on the same space as an art park. The Nikkei for Civil Rights and Redress (formerly the National Coalition for Redress and Reparations) fully supports a Recreation Center on First Street North and believes that all concerns about noise, proximity to the veterans' monument and parking can be resolved.


GRASSROOTS COMMUNITY CAMPAIGN


It took a grassroots community-wide movement to finally win redress after an eight year campaign. We did not get the Civil Liberties Act of 1988 passed by waiting for the government to do the right thing. We as a community became active participants in the democratic process and helped to educate the American public. We insisted that all those who wanted to testify should be able to speak at the Commission on Wartime Relocation and Internment of Civilians in 1981. At those same hearings we insisted that Japanese translation be provided for the lsseis and that there be an evening session at Little Tokyo Towers so that working people could participate.

The community won redress by writing letters, gathering petitions, speaking to any and all organizations, conducting candlelight vigils and lobbying the United States Congress. With the sponsorship of Congressman Mervyn Dymally we even wrote our own bill which called for $25,000 for each individual and a community fund to help rebuild our community. In 1987, 127 ordinary folks went to Washington D.C. and told their stories to different congress people who eventually voted for the final redress bill. We did not get the Appropriations Bill passed in 1989 by hoping that Congress would allocate money to really pay individuals before more of our community had passed away (already over half of those interned were no longer alive). We sent Ietters, telegrams and made phone calls to our representatives and organized a Day of Protest with over a 1,000 people in the JACCC Plaza. We learned a lot about the political process and how a bill becomes law. We spoke up, stood up and became stronger as a community.

The current effort to build a Rec Center has been going on for eight years. Over twenty years ago, the community was promised a gymnasium in Little Tokyo as part of redevelopment. Instead of a gymnasium next to the community center, we have the Noguchi Plaza. lt will take a community wide campaign to make a Rec Center a reality on the only available and viable space, First Street North. We will not win this campaign by waiting for City Council to do the right thing or by hoping that another site will become available in the future. We will again need to gather petitions, speak to any and all organizations and lobby Councilwoman Jan Perry. We did not win redress and we will not get a Rec Center by being quiet. We demanded redress and even challenged those politicians who opposed the bill.


VISION FOR LITTLE TOKYO


NCRR has its roots in Little Tokyo. Many of the individuals who formed the organization were people who had participated in the redevelopment struggle of the 1970's as part of the Little Tokyo Peoples Rights Organization (LTPRO). Before the lsseis were evicted from the Beacon and Narasaki Hotels, LTPRO pressured the city to wait for the Little Tokyo Towers to be built. They worKeci with the Latino families of the Sun Hotel, saw almost a 1000 units of low income housing destroyed, and demanded that relocation benefits be provided for those evicted.

NCRR commends the vision of the Little Tokyo Service Center CDC and the concrete work that they have done to revitalize Little Tokyo. By renovating the San Pedro Firm Building and building Casa Heiwa, LTSC CDC has brought residents back to Little Tokyo. It is still not the numbers it was before redevelopment, but it is a start. LTSC CDC has shown its ability to work with other organizations such as the East West Players, Visual Communications and Art Core in the creation of the Union Center for the Arts thus preserving Old Union Church. We look forward to the opening of the Far East Café, a place where we celebrated many important events as Japanese Americans. All these projects have enriched our community as well as Little Tokyo. Their work is an example for other communities to follow.

Although redress may have benefited individuals, the struggle empowered our community and our victory contributed to the movement for greater civil rights in this country and abroad. A Rec Center on First Street North will provide a permanent home for the senior lunch program, Koreisha Chu Shokukai and bring families and children back to Little Tokyo for tournaments and sports. It will serve the people of Little Tokyo, the broader Japanese American community, the neighboring communities and will show how strengthening communities strengthens the entire city of Los Angeles.

We came together as a community to win redress. We can come together again and build a Rec Center in Little Tokyo.


Redress Now! Recreation Center Now!