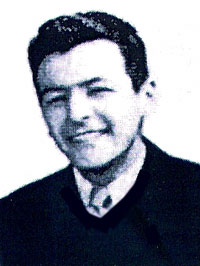 Before Stand Up for Justice was filmed, members of the NCRR Education Committee, including director/scriptwriter John Esaki, interviewed some of Ralph's friends. What was Ralph like? Why did he go to Manzanar? What were his feelings about the internment? Because Ralph died in 1992, the answers to these questions could only be provided by his longtime friends. Sue Embrey, Archie Miyatake, Bruce Kaji, Rosie Kakuuchi and Dr.Yoshindo Shibuya shared their thoughts about Ralph and his impact on their lives. Other friends were queried at Manzanar High School Reunions or telephoned for comments. We were also able to gain new insights about Ralph from speaking with Ralph's daughter, Laura Thibodeaux. The Lazo Project is indebted to these people for giving life to Ralph's character in Stand Up for Justice.Ralph Lazo was a teenager of Mexican-Irish descent who voluntarily accompanied his Japanese American class- mates to the Manzanar concentration camp during World War II. Ralph and his sister Virginia were raised by their father in Los Angeles (their mother died when Ralph was very young). Their Temple-Beaudry neighborhood was integrated and included families of Caucasian, Jewish, Japanese, Filipino, Korean, Mexican and Chinese descent. Ralph was a popular student at Central Junior High School and Belmont High School and was active in sports and in student government.
After Japan attacked Pearl Harbor on December 7, 1941, Japanese Americans increasingly became targeted as disloyal Americans. Community leaders in Hawaii and on the West Coast were arrested with no charges and were sent to Department of Justice (DOJ) internment camps. On February 19, 1942, President Franklin D. Roosevelt signed Executive Order 9066, which further violated the constitutional rights of Japanese Americans. Over 110,000 persons of Japanese ancestry, two-thirds of whom were U.S. citizens, were shipped off to temporary "assembly centers, and later transferred to ten concentration camps located in the most desolate areas of the country's interior. Even Latin Americans of Japanese descent were targeted. They were kidnapped from their homes in South America and sent to DOJ camps in Texas.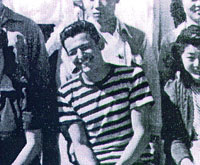 Ralph Lazo watched anxiously as his Japanese American neighbors hurriedly sold their personal belongings and registered their families for involuntary confinement in concentration camps.
Yoshindo Shibuya was Ralph's classmate and friend at Belmont High School. After Yoshindo was sent to Manzanar he wrote to Ralph and, a few weeks later, received a letter in return. Ralph told Yoshindo to expect him to arrive at Manzanar on a certain date. To Yoshindo's surprise, Ralph arrived at camp with some of his Japanese American high school friends on the date promised, having taken the train from Los Angeles to Lone Pine and then a bus to Manzanar. Yoshindo recently said, He's a special guy, especially to do what he did. When you're kids you don't delve into something that heavy, but evidently he must have had some deep thoughts about this.That's probably the reason he said, "I'm going." Rosie Kakuuchi concurred. "The Constitution? We learned it in school, but it was just words. But to this man it had meaning because he knew the camps were wrong. This is the reason he came into our camp he thought if his buddies are going into camp, he wanted to experience it. Sixteen years old and he leaves his family, not knowing what was going to happen."
At Manzanar, Ralph fit right in. He had taken Japanese classes and could speak a little Japanese to the first generation immigrants, the lssei, who took him under their wing. Perhaps they thought he was an orphan of mixed blood. After Manzanar High School was established in September 1942, Bruce Kaji said this about his Mexican American friend: "In fact, he was one of the most popular members of our class - a cheerleader, a president of the class and a mixer. He was very outgoing and most of us Nisei, I speak for me, are very quiet. We got a lot of leader- ship from Ralph Lazo."
Ralph spent two and a half years at Manzanar. He left camp only twice: once to register with the draft board in Lone Pine and the other to represent the Manzanar YMCA at a Hi-Y conference in Estes Park, Colorado. After Ralph's family found out that he was at a "relocation camp" and not at "summer camp," Ralph's sister Virginia wrote several letters asking Ralph to return home. But Ralph did not want to return and his father eventually gave him permission to stay at Manzanar. Following graduation from Manzanar High School, Ralph was drafted into the armed services and served in the Pacific Theater.
After the war Ralph attended UCLA, where with his fellow Latino students, he conducted voter registration drives in East Los Angeles. Always interested in youth programs, Lazo taught in Mexico where he married, became a teacher, and then a college counselor at Valley College. "He was always aware of what was going on," says Sue Kunitomi Embrey. "When he was working at Valley College he would call me and say,'You know, there's a new book out about the Peruvian Japanese. Have you read it?' I would say, 'No.' Ralph would then say, 'Okay, I'll give you the title, and you go look far it.' When election time came around, Ralph would send postcards advising me to vote for this proposition or that person, or just don't forget to go vote. But, I'm sure he was very cautious because he said people had threatened him (as a "Jap" sympathizer for supporting reparations for Japanese American internees).
Ralph Lazo never lost touch with his Japanese American friends. On New Year's Day 1992, one of Ralph's Nisei friends found out about his death when she delivered some of his favorite Japanese New Year's dishes to his house. With Ralph's passing, Japanese Americans lost a dear friend — one who, when it seemed the whole world was against them, kept their spirits up and refused to turn his back on them.
---
Related articles:
Japanese Internee Denounces Racism and War