Courage to Resist. July 9, 2007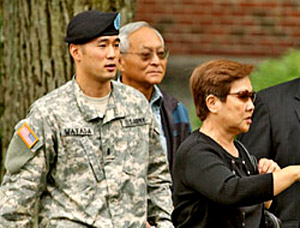 On Friday, a pretrial hearing was held at Fort Lewis in the U.S. Army's second attempt to court-martial Lt. Ehren Watada for refusing to deploy to Iraq in June 2006. Lt. Watada continues to argue that the Iraq war is illegal under U.S. and international law. During the first court martial in February, after over a thousand anti-war protesters gathered at the gates of Fort Lewis, military judge Lt. Col. John Head orchestrated a mistrial in order save the prosecutions weak showing prior to defense arguments. Now, this same judge plans on presiding over a new trial. Last week Judge Head ruled in support of himself, twice. First, Head claimed that he could be impartial claiming beyond credibility that he does not have an "intractable attitude or preconceived notions". Second, he ruled that a new trial again wouldn't violate Lt. Watada's constitutional right not to be prosecuted twice for the same crime, known as double jeopardy.

The U.S. Army Court of Criminal Appeals has issued a partial stay in the court martial that remains in effect. While pretrial proceedings have been allowed to go forward, no court-martial can take place until the partial stay is lifted. If the current partial stay is lifted in time for the scheduled July 23 court martial, it is likely that the Federal Court of Appeals would step in to review the issue of double jeopardy... Although few expect the Army to be able to retry Lt. Watada July 23-28 as they plan, the Army has again subpoenaed regional anti-war organizers to take the stand against Lt. Watada. Late last week, Seattle Veterans for Peace organizers Gerri Haynes and Tom Brookhart were re-subpoenaed to "verify remarks Lt. Watada made to the VFP National Convention last August." Olympia Movement for Justice and Peace activist Phan Nguyen was re-subpoenaed by the prosecution to explain how Lt. Watada's initial June 7, 2006 press conference in Tacoma, Washington was organized.