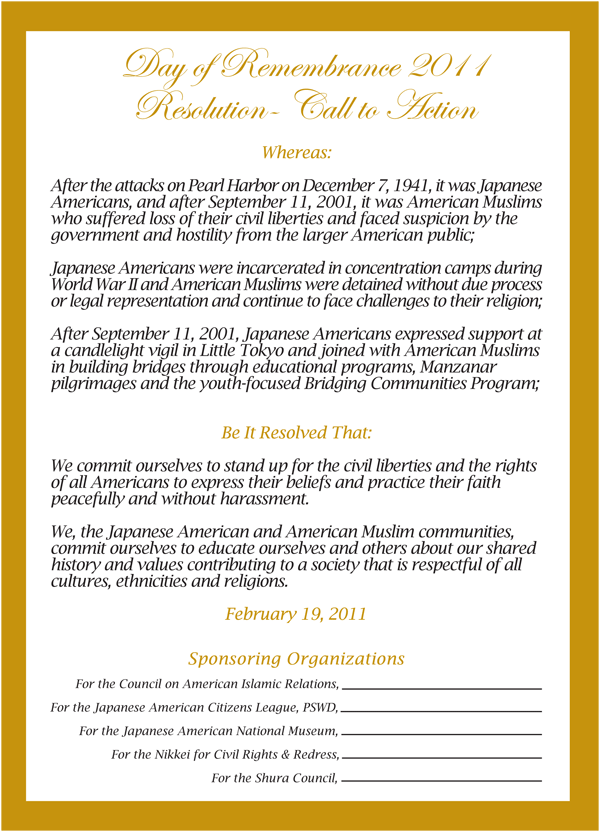 DOR 2011
September 11, 2001: Ten Years After
The main reception hall at the Japanese American Museum in Little Tokyo was filled to capacity with participants and visitors for DOR 2011.
This year's emcees were Koji Steven Sakai, a JANM staff member and Ameena Mizra Iqazi, deputy executive director and staff attorney for the LA chapter of the Council on American Islamic Relations.

The event featured keynote speeches by former U.S. Secretary of Transportation Norman, Y. Mineta and Hamza Perez, a Puerto Rican rapper who broke out of the cycle of drug dealing and prison life to follow a new path as a young Muslim.

Mineta remarked that he remembered the placards that had been posted in areas along the West Coast were large Japanese American populations, instructing them to report for evacuation and relocation. They were nailed and stapled to the sides of building and utility poles, and Mineta said "Attention All those of Japanese ancestry, alien and non-alien'. Well, who is a non-alien? An American citizen."

Mineta explained that the government wasn't even willing to acknowledge that over 65 percent of the 120,000 people who were going to be evacuated were U.S. citizens. "That's why I cherish the word 'citizen'". He said.

In describing some of the daunting tasks he faced on September 11, 2001, the former secretary praised the work of the air traffic controllers , pilots and flight attendants, all of whom had to figure out what to do with their aircraft after Mineta ordered the grounding of all planes in the country and the closing of all U.S. air space. He noted the cooperation of the transportation minister and the people of Canada, who graciously accepted hundreds and planes and thousands of passengers, not knowing for how long they would be stranded there.

Hamza, who left his checkered past in Massachusetts to extablish a new religious community on Pittsburgh's tough North Side, said the humiliating FBI raid on his mosque in the days following September 11 led him to reach for more connection with people outside his faith.
"God created different tribes." Hamza said, citing the Koran, "so that we'll get the opportunity to know one another."

Hamza added that on any road to understanding, face-to-face contact is crucial, and he praised the Japanese American community for holding events such as DOR.

The ceremony also saw the adoption of a resolution and call to action, brought by representatives of the local Japanese American and Muslim American communities, which called for a commitment "to stand up for the civil liberties and rights of all Americans to express their beliefs and practice their faith peacefully and without harassment." A large print of the resolution was signed by the presenters and all in attendance were invited to do the same.