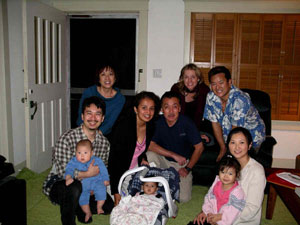 Southern California CFJ at a recent gathering
Campaign for Justice (CFJ) is still seeking to complete the mission of redress for Japanese Latin Americans (JLAs) and Japanese Americans who were denied redress during implementation of the Civil Liberties Act of 1988 (CLA).
Grace Shimizu and Robin Toma of CFJ met with Congressman Xavier Becerra in order to plan for activities to bolster support for HR 779, the Wartime Parity and Justice Act of 2003, which Becerra reintroduced in Congress. Although JLAs received acknowledgement by the Department of Justice of the injustice done to them during WWII, their measure of redress was $5K per person as compared to $20K for Japanese Americans. HR 779 would achieve equity in redress for JLAs. The bill would also secure redress for Japanese Americans who were denied redress, including those born in camp after June 30, 1946, and those born outside of camp after January 20, 1945. The bill also calls for $45 million for public education in order to fulfill the educational mandate of the CLA (only $ 5 million of $50 million originally intended by Congress for educatiion was actually appropriated).
Plans are in the works in the San Francisco Bay Area for an Assembly on Wartime Relocation and Internment of Civilians, which will be patterned after the federal Commission on Wartime Relocation and Internment of Civilians. The Assembly will take place in April of this year and will feature testimonies by Japanese Latin Americans, Japanese Americans representing those denied redress, and various historians, public officials, and others.