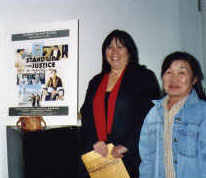 Nancy Takayama, President of San Fernando Valley JACL and NCRR member Suzy Katsuda
On the Road with Stand Up For Justice
2004 has been a busy year for the NCRR Education Committee. The film about Ralph Lazo premiered at the Los Angeles Day of Remembrance event in February. Members of the Lazo family attended, as did several of Ralph's friends from the 1940s Manzanar High School days. Then Stand Up For Justice was exhibited at three film festivals (Visual Communications' Film Fest, the San Diego Asian Film Festival and the Hawaii International Film Festival) and at two screenings directed towards educators and the community. They occurred at the California State Universities at Long Beach and Northridge.
The film was well received at all of the screenings and elicited fond remembrances of Ralph Lazo from those that knew him. Educators who have viewed the film are anxious to promote the use of the video version in secondary schools.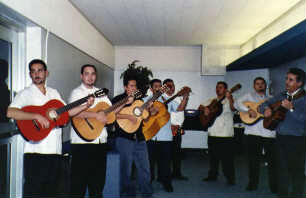 Northridge Mariachis at the 'Stand Up for Justice
Curriculum Guide
The Education Committee also completed the prototype Stand Up For Justice Curriculum Guide. Despite their busy schedules, the committee members met monthly and then weekly to finish the guide by the July California Civil Liberties Public Education Program due date. In August the film and guide had a test run at Camp Musubi, a program for youngsters to learn about Japanese American culture and history at the Japanese American Culture and Community Center. Valuable feedback was obtained from Camp Musubi participants and at screenings for high school history classes at the New Roads School in Santa Monica.
2005 will continue at a lively pace for the committee. Visual Communications has entered the film in several film festivals, and the committee plans to do community screenings in the San Fernando Valley where Ralph Lazo lived and worked and at other centers where large numbers of Japanese Americans live. The Stand Up for Justice film and Curriculum Guide will continue to be tested in high school history and civics classrooms during the spring semester and the final version of the Guide should be ready by fall 2005.
Check the NCRR website regularly! A list of screenings will be posted as dates become confirmed.