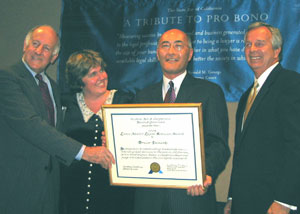 (L-R) Chief Justice of California, Ronald M. George, Bonnie Hough of the Adminstrative Office of the Courts, Bruce Iwasaki, State Bar President, Anthony P. Capozzi.
Bruce Iwasaki, a longtime NCRR member, was awarded the 2004 Loren Miller Legal Services Award, the State Bar's highest honor, on Oct. 5, 2004. Bruce has worked tirelessly in the poverty law community and since 1997 has been the Executive Director of the Legal Aid Foundation of Los Angeles. He has improved the legal aid program services, mentored young attorneys and lobbied lawyers in the private sector to provide pro bono work.
Since becoming a lawyer in 1977, Bruce has spent most of his professional career in the field of poverty law, working to provide legal services to the thousands who can't afford them and to eliminate the distinction between democracy and justice. "There need to be institutions, and people working in those institutions, that insure justice," he believes.
Looking back on his career, Bruce modestly declines to take credit for accomplishing anything without the help of other advocates. As his most satisfying cases, though, he cited two:
* Winning an injunction in 1984 against the Reagan Administration's effort to deny Social Security recipients' disability benefits. Eventually, Iwasaki said, benefits were restored to thousands of people and Congress acted to stop the practice.
* Winning a 1995 ruling in a health access case that resulted in today's ability-to-pay plan, enabling low income people to obtain medical services on a free or sliding scale basis.
For the redress effort, Bruce wrote NCRR's amicus brief for the Linda Kawabe Consolo case in 1994 in which Linda Consolo was deprived of liberty as a child of a "voluntary evacuee" born after the parents' displacement. The class action decision won on appeal and approximately 1200 children of voluntary evacuees who were initially denied, won redress under the Civil Liberties Act of 1988.