Campaign for Justice (CFJ) has been fighting for redress for Japanese Latin Americans (JLAs) since 1996. When JLAs were excluded from redress provided by the Civil Liberties Act of 1988, NCRR, JACL, Japanese Peruvian Oral History Project, and the Southern California chapter of ACLU formed CFJ. CFJ worked with JLA former internees to file the Mochizuki v. U.S. class-action lawsuit. That action culminated in negotiations with the Department of Justice and a compromise, in which JLAs were afforded only $5,000 reparations for each former internee.
Since that time, CFJ has dedicated itself to securing equity in redress for JLAs. CFJ has also pushed for redress for those Japanese Americans who had been denied redress and to restore $50 million that Congress had intended to use for public education about the World War II incarceration and internment.
Representaive Xavier Becerra (D-Los Angeles) heard about the JLA issue and has championed it in Congress ever since. He introduced the Wartime Parity and Justice Act in 2000, which sought to remedy the unfinished business in JLA/JA redress and restoration of the fund for public education. In 2001, Senator Daniel Inouye (D-Hawaii) joined Rep. Becerra in reintroducing the Wartime Parity and Justice Act. This bill was reintroduced in 2003 and 2005, but it never gained enough momentum for passage.
In 2006, upon Sen. Inouye's recommendation, he and Rep. Becerra introduced the Commission on Wartime Relocation and Internment of Latin Americans of Japanese Descent Act (JLA bill). This bill was patterned after the original Commission on Wartime Relocation and Internment of Civilians, which recommended redress and was pivotal as the basis for provisions of the Civil Liberties Act of 1988. The JLA bill would convene a commission that would investigate the causes and effects of the JLA internment and make appropriate recommendations.
Sen. Inouye and Rep. Becerra reintroduced the JLA bill in 2007. CFJ has worked closely with Christine Oh, who was a legislative aide for Rep. Becerra, and with Van Luong, who is a legislative aide for Sen. Inouye.
This year, CFJ is making a big push for passage of the JLA bill. CFJ has been fortunate to secure the services of Christine Oh to work on this campaign full-time, as she decided to return to Los Angeles late last year. CFJ has also begun to meet jointly with JACL and will be working with Craig Ishii, the Pacific Southwest District (PSWD) Director; Brian Moriguchi, Chair of the PSWD Civil Rights Caucus; and Debee Yamamoto, Public Policy Director in Washington, DC.
One of the key goals of the campaign is to garner support from Republicans in Congress. Gary Hayakawa, one of the pioneers of Japanese American Republicans (JAR), has begun to work with JACL and CFJ in this effort. We are also seeking support from national organizations as well as local groups in this cause. The immediate task is to secure a hearing on the JLA bill by the Subcommittee on Constitution, Civil Rights, and Civil Liberties of the House Judiciary Committee, chaired by Jerry Nadler (D-New York).
As CFJ gears up for the 2008 push, we encourage community members to help us in any way that you can. We need volunteers as well as monetary donations. If you can help us, please contact us at Campaign for Justice, P.O. Box 1384, El Cerrito CA 94530, or at www.campaignforjusticejla.org.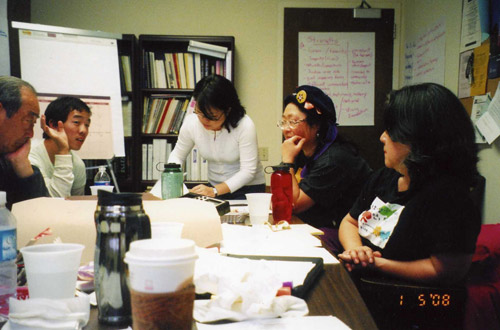 Hector Watanabe, Dana Nakano, Christine, Stephanie, & Grace.