In October, the NCRR 9/11 Committee and Watada supporters held vigils on the corner of Alameda and First to express opposition to a second court martial of Lt. Ehren Watada for his refusal to deploy to Iraq in June 2006. For five consecutive Mondays, supporters from Global Women's Strike, Payday, Neighbors for Peace and Justice, the Whittier Peace Coalition, the Mark Twain Club, the Los Angeles Catholic Worker, the American Friends Service Committee and JACL joined the 9/11 Committee and the Asian American Vietnam Veterans Organization holding their own signs and banners calling for an end to the war in Iraq.
The NCRR 9/11 Committee circulated a petition calling for the US District Court to uphold Watada's 5th amendment protections against "double jeopardy" and opposing any retrial of Watada and any persecution of military war resisters. These were sent to Judge Benjamin Settle of the US District Court for the Western District in Tacoma, Washington. On November 8 Judge Settle issued a Preliminary injunction barring any court martial until further orders from him or until the injunction is lifted or modified. He chastised the judge who presided at the February court martial and reaffirmed that another court martial would do great damage to Watada and that the public interest was against it. The military court has yet to respond.
Highlights of 2007
March in Little Tokyo for Watada and Aguayo
In early February, Helga Aguayo, wife of conscientious objector Agustin Aguayo and Carolyn Ho, mother of Lt. Ehren Watada, led four hundred people through the streets of Little Tokyo who chanted, "Drop the Charges Now" and "Free Aguayo" all the way to Higashi Hongwanji temple. The standing-room only crowd gathered to give more encouragement to Carolyn and Helga and to send off the four NCRR representatives attending the court martial in Ft. Lewis. Ehren faced up to eight years in prison and a dishonorable discharge if found guilty of the charges of missing a movement and behavior unbecoming an officer.
February 5 Court Martial in Fort Lewis
Four women, June Hibino, Kimi Maru, Kathy Masaoka and Robin McClaren of the Whittier Peace Coalition, represented NCRR at the three-day court martial and connected with people who had come to support Ehren from across the country. Thousands demonstrated above the freeway overpass near Ft. Lewis during the trial. The NCRR representatives were able to be in the public courtroom for all three days by arriving before sunrise to sign up and being first in line. They heard how Ehren was an exemplary soldier and that he had followed all the procedures given to him by his commanding officers. Military law experts, testifying for the military or the prosecution, agreed that if a soldier believes that an order is illegal or immoral, it is his duty to disobey that order. On the last day of the trial when Ehren was scheduled to testify, Judge John Head unexpectedly declared a mistrial over the objections of Ehren's attorney, Eric Seitz. Ehren was prepared to explain why his actions were not only justified but followed military law. Judge Head mistakenly presumed that Ehren would not be speaking about his reasons since he had signed a stipulation admitting that he had missed the movement and that he had spoken publicly against the war. For Ehren, acknowledging that he committed these actions did not mean that he was admitting guilt of any crime since they were based on his belief that the war is immoral and illegal.
Continuing to Build Ties with the Muslim Community
Nobuko Miyamoto of Great Leap and Ruben Guevara of the 9/11 Committee participated in the Council on Arab Islamic Relations' dinner program attended by over 2000 people. Nobuko shared the testimony of Yuri Kochiyama and Ruben read from Cesar Chavez speeches. In December, the Muslim Public Affairs Council recognized the support of NCRR during their annual dinner. Both CAIR and MPAC joined with other Muslim organizations including the Shura Council to protest the "Muslim mapping plan" created by the Los Angeles Police Department. NCRR signed onto a letter of protest and joined others at a press conference where the LAPD retracted the plan and apologized.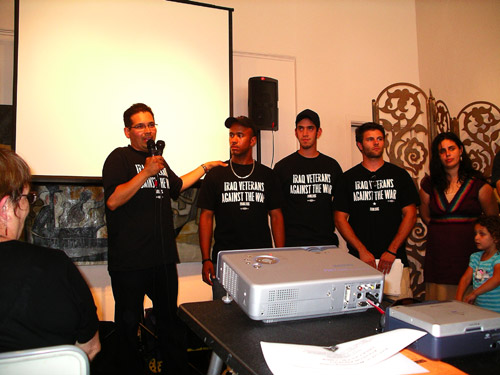 Members of Iraq Veterans Against the War speak out in support of Agustin Aguayo at Studio
Avenue 50 where a large crowd of friends and family welcomed Aguayo and his family.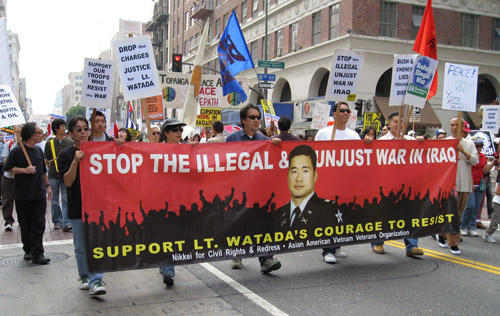 NCRR 9/11 Committee march with Asian Pacific Islander contingent in anti-war march in
downtown Los Angeles.