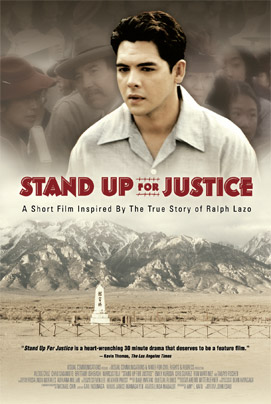 LOS ANGELES—The film STAND UP FOR JUSTICE will celebrate its long-awaited DVD release on Sunday, Feb. 14, 2010, 2:00 pm, at the National Center for the Preservation of Democracy, in Little Tokyo. The event is being presented by Visual Communications, the nation's premier Asian Pacific American media arts center, and Nikkei for Civil Rights and Redress (NCRR), a non-profit dedicated to participation in the broad areas of civil rights as well as continued commitment to redress for Japanese Americans and Japanese Latin Americans.
The highlight of the Valentine's Day event will be a screening of the short documentary, The Making of Stand Up for Justice, which is included on the DVD. Over 100 community members volunteered and donated to this film project and their contributions are documented in this video. The DVD also features the STAND UP FOR JUSTICE film, with options for English closed captioning, Spanish and Japanese language subtitles, and additional information about Ralph Lazo.
Based on a true story, STAND UP FOR JUSTICE is a short dramatic film about Ralph Lazo, a young Latino American teenager from Los Angeles who voluntarily went to Manzanar concentration camp. Nisei friends remember him as one who stood faithfully with his Japanese American friends in their most difficult time. Ralph Lazo was also one of the first to support the movement to seek redress for surviving internees.
The 30-minute film STAND UP FOR JUSTICE powerfully addresses the violations of civil liberties that Japanese Americans faced during World War II and reveals how one person's actions earned the undying gratitude of a community.
Since the film first premiered in 2004, the story of Ralph Lazo has been screened at numerous film festivals and community centers throughout the U.S. In 2007, a curriculum guide was created and has been distributed to more than 1,500 high school teachers throughout California through workshops led by members of the NCRR Educational Committee.
Tickets for the DVD release event are $10 for members of Visual Communications and NCRR, and $15 general admission. A reception with food and drinks will follow. Attendees will have the opportunity to purchase additional DVDs at a discounted rate of $20.00 (regular list price is $24.95). Local cast and crew members will be on hand to autograph DVDs.
Seating capacity is limited. Tickets go on sale to the public on January 25, 2010. To purchase tickets, please visit www.vconline.org. For more information, please call (213) 680-4462. The National Center for the Preservation of Democracy is located at 111 N. Central Ave. in Little Tokyo, downtown Los Angeles, adjacent to the Japanese American National Museum.
Founded in 1970, Visual Communications' mission is to promote intercultural understanding through the creation, presentation, preservation and support of media works by and about Asian Pacific Americans. The organization is dedicated to using media to organize, empower and educate communities, and to build connections between generations. NCRR, formerly the Los Angeles Chapter of the National Coalition for Redress/Reparations, is a civil rights group that was instrumental in obtaining redress and reparations for Japanese Americans interned during World War II. NCRR's mission has included educating the public to prevent the occurrence of future U.S. concentration camps, and has supported many other groups in the struggles against injustice, racism and racial profiling.