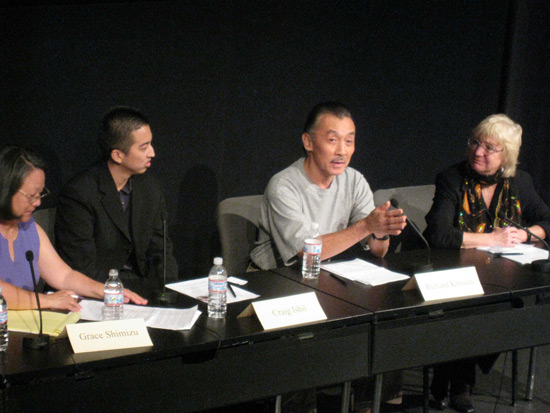 Grace Shimizu, Craig Ishii, Richard Katsuda, and Karen Parker
explain the Japanese Latin Americans quest for justice

Japanese Americans Raise Hopes for Justice in 2009

The new year brings renewed energy and hope that Japanese Latin Americans (JLAs) will finally win the dignity and redemption that are so long overdue. Campaign for Justice: Justice Now for Japanese Latin Americans! (CFJ) is optimistic that newly elected President Obama and the 111th Congress will create a political climate in which legislation providing justice for JLAs will gain passage.
CFJ has been working with Rep. Xavier Becerra (D-LA) since he first introduced redress legislation for JLAs in 2000. CFJ has also worked with Sen. Daniel Inouye (D-HI), who introduced the Commission on Wartime Relocation and Internment of Latin Americans of Japanese Descent Act in the Senate during the last session of Congress. Rep. Becerra and Rep. Mike Honda (D-San Jose) introduced the commission bill in the House of Representatives.
This bill is patterned after the Commission on Wartime Relocation and Internment of Civilians, which held hearings on the Japanese American incarceration and made recommendations that were instrumental toward passage of the Civil Liberties Act of 1988. The bill would convene a commission to study the events surrounding the deportation and incarceration of Japanese Latin Americans during WWII and to recommend appropriate remedies to Congress.
It has been over twenty years since the Civil Liberties Act of 1988, yet JLAs are still waiting for their just redress. Time is of the essence, and so the commission would be charged with holding hearings and submitting its findings and recommendations within twelve months of the bill's enactment.
Sen. Inouye and Rep. Becerra reintroduced the bill in the 111th Congress. In the coming year, CFJ will be providing outreach on college campuses and seeking allies among community organizations in order to build support for the bill. Recent events that CFJ has cosponsored include a community forum on October 25th at the National Center for the Preservation of Democracy in Little Tokyo and a campus event on November 13th at UCLA, in which "Hidden Internment: the Art Shibayama Story" was featured.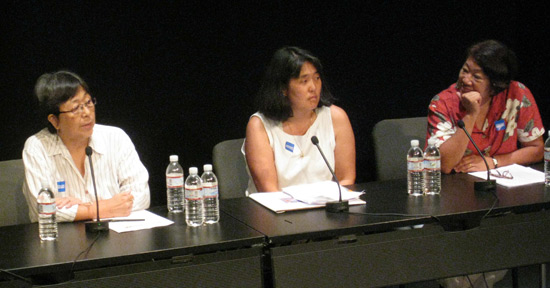 NCRR's Kathy Masaoka, Jenni Kuida, and Sandy Maeshiro talk about NCRR's 2001 trip to Cuba