2008 was another very busy year for the Education Committee. The Ralph Lazo Stand Up for Justice film and curriculum materials were presented at several teacher conferences and at local school district workshops. The "commercial DVD" of Stand Up for Justice drew closer to becoming reality. NCRR members, including Education Committee members, spoke about the World War II experience of Japanese Americans at Muslim mosques and community centers throughout Southern California.
Teachers Richard Katsuda, Patty and Steve Nagano, Kathy Masaoka, and Kay Ochi conducted several Stand Up for Justice workshops in Northern and Southern California. The workshops were designed to give teachers training in the use of the Lazo DVD and curriculum materials. Workshops at the California Teachers Human Rights Conference, the California Council for Social Studies, and United Teachers of Los Angeles were made possible by grants from the California Civil Liberties Public Education Program, the Takahashi Charitable Foundation, and Japanese American Community Services. This year NCRR partnered with Japanese American Museum of San Jose's Agnes Idemoto to train Santa Clara County teachers in the use of the film and teacher's guide.
The Committee anticipates that Stand Up for Justice will be available to the community some time in 2009. Visual Communications has completed the Spanish and Japanese subtitles, and additional film footage and commentaries have been edited into a supplementary "making of" Stand Up for Justice segment.
2008 saw the continued strengthening of ties between the Japanese American and Muslim communities. June Hibino, Kathy Masaoka, Patty and Steve Nagano and Kay Ochi joined other NCRR members to discuss the World War II incarceration of Japanese Americans at NCRR/JACL/Council on American-Islamic Relations (CAIR) sponsored programs in the Muslim community (see Bridging Communities article).
With the reality of severe 2009 budget cuts facing California schools, it is anticipated that fewer teachers will be able to attend statewide conferences. NCRR plans to outreach directly to high school teachers who have attended past workshops and encourage them to conduct workshops at their own schools. Since March 2007 over 1000 Stand Up for Justice curriculum packets have been distributed free to California educators.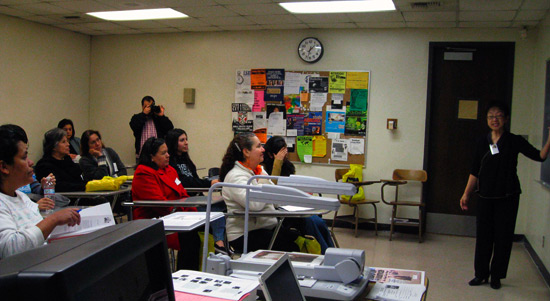 Kay Ochi presents at the Los Angeles Unified School District Human Relations workshop at California State University at Los Angeles.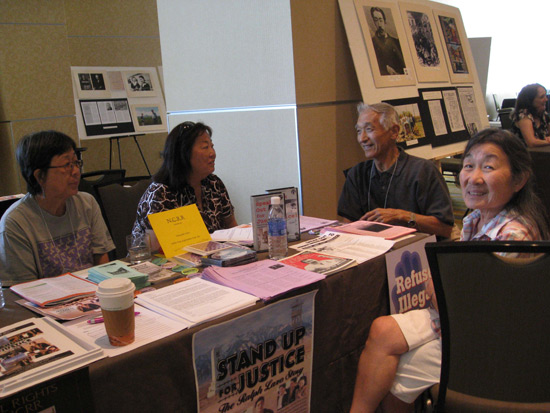 Kathy Masaoka, Carrie Morita, and Suzy Katsuda promote Stand Up for Justice at the July Japanese American National Museum conference in Denver, CO.