Kathy Masaoka awarded the Dan B. Genung Visionary Leadership Award from All Peoples Community Center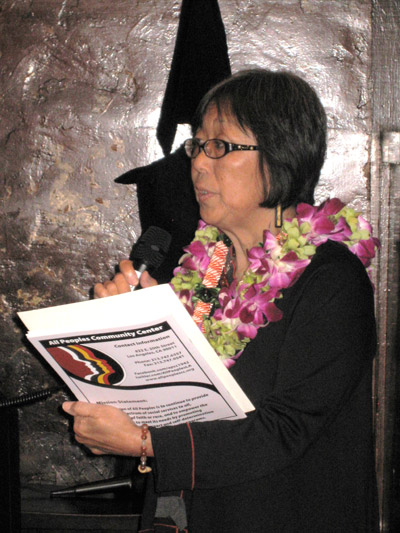 Kathy Masaoka, a co-chair of NCRR, was awarded the Dan B. Genung Visionary Leadership Award from All Peoples Community Center on October 6th, 2011. Kathy credits growing up in multi-ethnic Boyle Heights with helping her develop an appreciation for people from diverse backgrounds. As a minority student at a predominantly white high school, Kathy explored questions of race, culture and identity at an early age. Enrolling in some of the first Asian American Studies classes taught at UC Berkley in the late 1960s, she was determined to find answers to her questions.

After college, Ms. Masaoka engaged in community service and organizing in Little Tokyo. She worked especially hard to combat the growing problem of drug use among Asian youth. Kathy began teaching at All Peoples in 1984, when the school on site was part of the Service for Asian American Youth. Today, the school at All Peoples is a branch of LAUSD's Central High, a continuation school offering students the opportunity to obtain an accredited diploma. Kathy retired this year after 27 years of distinguished service, inspiring young people to value their potential and reach beyond expectations.

Thoroughout the 1980s, Kathy was active in the National Coalition for Redress/Reparations (now known as Nikkei for Civil Rights & Redress) a grassroots campaign seeking justice for Japanese Americans placed in internment camps during World War II. With the group's success in winning redress and financial reparations, Kathy realized the importance of educating people, especially young people, about their history and the need to stand up for your beliefs and support others in their struggles.

In the wake of 9/11, recognizing that what happened to her community could happen to others, Kathy has worked to connect Japanese American and American Muslim youth. Kathy sits on the board of the Little Tokyo Service Center, an organization that provides direct services and engages in economic and community development in Little Tokyo.