The NCRR 9/11 Committee Continues to Build Links Kathy Masaoka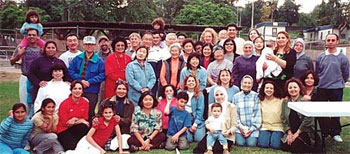 Over the past year the NCRR 9/11 Committee has continued to build links with the Arab American, American Muslim and South Asian communities. On September 9, the committee was recognized "for exemplary contribution towards promoting peace, justice and harmony in the community after the attack on American on September 11, 2001." The Islamic Center of Southern California presented the Muslim Appreciation Award to several individuals including Mayor Hahn and Robin Toma of the Human Relations Commission and to one organization, NCRR. To remember the victims of September 11 and to express our support to the Arab, Muslim and South Asian communities here, the committee initiated a candlelight vigil held in Little Tokyo on September 10.

Second Break the Fast Program Held at Senshin
On November 16, NCRR and members of the Muslim Public Affairs Council ( MPAC) organized a Break the Fast program at Senshin Buddhist Temple. Over 200 people from Senshin, MPAC and the broader Japanese American community attended the event. During the holy month of Ramadan, Muslims take no food or water during the daylight hours and break their fast only when the sun goes down. This is also a time for thinking good thoughts and performing charitable acts. Reverend Mas Kodani of Senshin shared the Buddhist perspectives and explained the rituals of chanting and incense offering while Hedab El Tarifi of MPAC conducted a question and answer session on Islam.

The program included Muslim prayers and a potluck dinner with plenty of time for people to get to know each other. During the cultural exchange, children from the New Horizon school sang, Dr. Saleh Kholaki sand some verses of the Koran and Johnny Mori and George Abe played the taiko drums. The signing of a joint resolution by members of MPAC, NCRR and all attendees culminated the evening.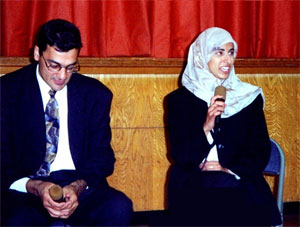 Part of the resolution read: "We American Muslims and Japanese Americans share many values and have common commitments, among them reverence for the dignity and honor of every human being. Our communities represented by the Muslim Public Affairs Council ( MPAC) and Nikkei for Civil Rights and Redress September 11 Committee, pledge to further strengthen our dialogue to promote peace and justice in the community and safeguard our civil liberties.

In the spirit of celebrating our diversity, we gather to share a Ramadan iftar at the Senshin Buddhist Temple in Los Angeles, on Saturday, November 16, 2002."

In this spirit, the NCRR 9/11 Committee encourages the community to express its concern and opposition to any racial profiling and violations of the constitutional rights of people in the Arab American, American Muslim and South Asian communities.



INS Registration Targets Arab Americans, American Muslims and South Asians

In early December, the Immigration and Naturalization Service announced plans to register and interview nonimmigrant males, 16 years and older from certain countries, mainly Middle Eastern. Wanting to cooperate with the government, organizations in these communities encouraged people to comply with the special registration plan, called the National Security Entry-Exit Registration System ( NSEERS). Due to a backlog in the INS, many people have been waiting for their applications for permanent residency as much as five years. Others are waiting for their applications for status-adjustments to be approved and in the meantime there visas have become invalid. Despite their fears, thousands of people did register and several hundred were then detained and jailed for visa violations.


Many organizations in the Arab American, American Muslim and South Asian communities are protesting these mass arrests and constitutional rights violations, calling for a suspension and review of this registration program. They are calling on supporters to be monitors to observe the registration at the INS offices. The Muslim Public Affairs Council ( MPAC) called for an end of the registration program at their annual convention and have asked people to support the letter written to Attorny General John Ashcroft by Senator Edward Kennedy, Senator Russel Feingold and Congressman John Conyers. They are asking for people to call or write Attorney General John Ashcroft:

Attorney General John Ashcroft
US Department of Justice
950 Pennsylvania Avenue, NW
Washington, DC 20530-0001

Phone: (202) 353-1555
Email: askDOJ@usdoj.gov

For more information, please check MPAC's website: broadcast@mpacnews.org