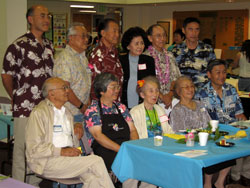 Previous NCRR Fighting Spirit Awardees!
(B)Bruce, Yosh, Frank, Carmen, Jim M, David (F) Jim S, Jan, Bernadette, Lily, Alan
• NCRR worked tirelessly to build a grassroots movement in the Japanese American community to seek reparations for the incarceration during World War II.
• In the early 1990's NCRR received hundreds of phone calls and letters from Japanese Americans denied redress. They needed help. NCRR organized community meetings and lobbying trips to Washington DC so that those denied could appeal their cases to the Office of Redress Administration (ORA) in the Department of Justice.

• NCRR worked with volunteer attorneys from the Japanese American Bar Association and the American Civil Liberties Union to file lawsuits for many of the Japanese Americans denied redress and for Japanese Latin Americans.

• During the post 9/11 era, NCRR actively supported the Muslim and Arab American communities with candlelight vigils, Breaking the Fasts, and community forums. Educational talks on Black and Mexican reparations and the plight of former labor and sex slaves of World War II were held.

• NCRR and Visual Communications produced Stand Up For Justice, about Ralph Lazo who went to Manzanar with his young Nisei friends during World War II. In addition to the yearly Day of Remembrance which NCRR has sponsored since 1981, we are in the process of Publishing an NCRR Reader.