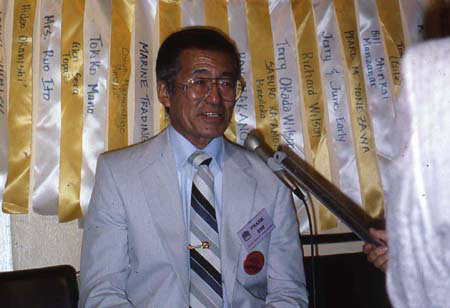 Frank Seishi Emi, an NCRR Hero
Eulogy for Frank Emi. 12/10/10
By NCRR

The Nikkei for Civil Rights & Redress mourns the loss of our dear friend and our hero, Frank Emi. We are fortunate to have known Frank since 1983 when he joined NCRR. It was during the early days of the redress movement when we first learned about the Fair Play Committee and the Resisters of Conscience. Why hadn't we learned about America's concentration camps and those few who, like Frank, fought back?! It was through the redress movement and hearing people's stories that our history was slowly revealed.

NCRR is comprised of Nisei and Sansei. We worked side by side with Frank for almost 30 years. It was a match made in heaven. Sansei had the benefit of growing up with the civil rights movement, protests, and marches. Frank had no such benefit. He took his stand way before the civil rights movement. He was a man truly ahead of his time. We instantly knew that we had a hero and a fighter in our midst. Frank and the other Nisei inspired us to demand that the U.S. government right the wrong and to struggle for reparations.

Frank was an active member of NCRR. He was interviewed often and spoke to media about the camps, the Fair Play Committee and the injustices. He traveled to Washington DC in 1987 with NCRR to lobby Congress for redress- and he suggested that he not mention that he was a draft resister during the Congressional meetings. He was for the greater good. Frank emceed important programs such as the Day of Protest in 1989- when the redress bill had not been funded, and for Day of Remembrance and other community programs. He participated in our monthly general meetings and joined us for lunch in Little Tokyo afterwards. We have wonderful memories of those times.

In 1987, Frank accepted NCRR's very first "Fighting Spirit Award" at the Day of Remembrance program. Who better to receive recognition for his fighting spirit?! In 1999 NCRR honored the Fair Play Committee and the Resisters of Conscience at the DOR. Frank accepted the award on their behalf. We were heartened when the JACL acknowledged the FPC and Resisters in 2000, and grateful that Frank and the other courageous men had lived to see that day.

NCRR members have shared their special remembrances of Frank:
Suzy Katsuda recalls that her father - who demonstrated judo in the 1932 Olympics- knew of Frank and admired his judo skills and discipline. Richard Katsuda marveled at Frank's dedication to Judo – going to the Hollywood Dojo well into his 90's.

Kathy Masaoka adds, "Frank had strong feelings for Little Tokyo. He joined in with hundreds of college students who came out to help repair the San Pedro Firm Building in the late 80's so that the residents would not have to live in slum-like conditions.

"Also, Frank was admired and respected by members of the Asian American Vietnam Veterans Organization who had served in Vietnam and returned to protest that war. The Resisters and Frank supported young people like Ehren Watada for their courage to refuse to fight in an illegal and immoral war."

Guy Aoki describes Frank as "classy" – for having a calm and dignified manner as he responded to attacks from some of the 442 guys. . .he had a "live and let live" attitude. Frank simply said, "They did what they thought that they had to do, and we did what we thought we had to do."

The rich legacy that Frank leaves us is highlighted by the courageous and principled position he took as a leader of the Fair Play Committee. This historic stand has resonated with generations of young people and has inspired so many of them. Both Glen Kitayama and Gann Matsuda were so inspired.

As Glen grew older and began to understand the realities of the camps, he grew angry and decided to learn more about the issues. He wondered where our heroes were in the Japanese American community. Where were our Rosa Parks, Cesar Chavez's? As far as he knew there weren't any heroes who stood up for justice while the government herded Japanese Americans away and locked them up behind barbed wire."

Glen remarked, "To me, that's what makes Frank Emi a true American hero. He didn't lose his moral compass in a time of great crisis. He had the courage to stand up for his beliefs when everyone else was willing to go along with the crowd and not cause any trouble.

"Frank Emi is the person that all of us want to be when the chips are down.
Unfortunately, most of us fall short when confronted with a crisis of the magnitude that Frank Emi faced."

Gann Matsuda added, "Frank became even more of a hero in my eyes for his work with NCRR in support of other communities facing racism and injustice, most recently, Muslim Americans facing racial profiling, or worse. Frank always stood up and spoke out in solidarity, drawing parallels to his own experiences . . .I realize that Frank's courage, strength of conviction, his consistent support of people fighting discrimination and injustice, on top of his experiences as a draft resister, are among the primary reasons that I became an activist."

Frank Emi has had a powerful influence and lasting impact on several generations of young Japanese Americans and will continue to inspire all who learn about him.

I believe that we all share Jim Matsuoka's sentiments that, ". . .we were privileged to know him. He will be greatly missed by his family and friends, the Nikkei community and all who take pride in valuing our freedoms as American citizens."

Dear Frank, you are truly a great American hero. You are our hero. We will miss you terribly. Rest in Peace. You will never be forgotten.
---
Frank Emi/NCRR Statement by Jim Matsuoka
December 2, 2010
The Nikkei for Civil Rights & Redress mourns the passing of a great American hero, Frank Emi. We know through his courageous actions and those of his fellow resisters at Heart Mountain what the meaning of the words "believers in the Constitution" really meant.
Frank Emi was first and foremost a patriot and he made better Americans out of all who knew him. Thanks to Frank, many of us who are Japanese Americans are proud to claim our heritage. In an era of rejection and hostility, he was fearless and courageous and undeterred in standing up to do what he felt was right. Unafraid of the consequences, he risked prison and ostracism for his passionate beliefs in the Constitutional rights of each citizen as fundamental tenets which could not and should not be abrogated. Frank lived to see the day that those who scorned him came to realize the heroic nature of this man and his true stature as an American.
Frank Emi was a longtime and leading member of the Nikkei for Civil Rights & Redress and was dedicated to the campaign for redress. He joined the lobbying delegation to Washington DC in 1987 and emceed many redress programs. Frank remained a strong advocate for civil rights throughout his life and to a person we will say that we were privileged to know him. He will be greatly missed by his family and friends, the Nikkei community and all who take pride in valuing our freedoms as American citizens.
---
New York Times: Frank Emi, Defiant World War II Internee, Dies at 94
---
Manzanar Committee Statement on the Passing of Frank Emi
---