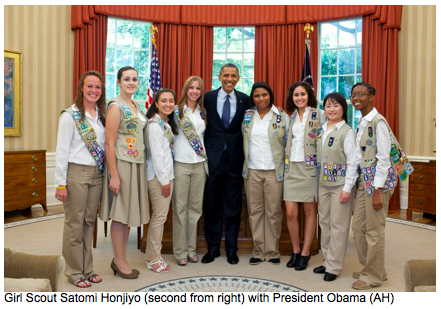 As part of the 100th Anniversary of Girl Scouts United States of America (GSUSA), Satomi Honjiyo and seven other Girl Scouts from across the nation were invited to meet President Obama in the Oval Office on June 8,, 2012. All eight scouts were Gold Award recipients, the highest achievement and awarded to only 5% of all eligible scouts. Satomi is the daughter of Amy Utsunomiya Honjiyo and Reid Honjiyo of Monterey Park, California.
Satomi earned her Gold Award project using the docudrama about Ralph Lazo, "Stand Up for Justice," which was produced by Nikkei for Civil Rights & Redress (NCRR) and Visual Communications. When asked how she chose her project, Satomi explained, "First, I was advised that the Gold Award should be a project that the Scout truly believes is personally important, something that you could work on with conviction. I remembered seeing a documentary about a teenager who stood up for what he believed in. The movie impressed me; it was a true story about a young person."
"When I started to brainstorm about a Gold Award project, I realized that I wanted to share this teenager's story and lead discussions about young people's values and their experiences about standing up for their beliefs. I believe that young people may know when something is not right, but are too afraid to stand up and do anything about it. I think it is important to start with the idea that people should not be afraid to share their feelings and at the same time, learn to respect and appreciate our differences."

Before meeting the President, the White House arranged for individual meetings for the Scouts with White House staff that were interested in the Scout's Gold Award project. Satomi met with two representatives; Gautam Raghavan, Associate Director Office of Public Engagement and Shin Inouye, Director of Specialty Media, Office of Communications who knew about the camps but did not know of Ralph Lazo.
As they completed their meetings and walked toward the Oval Office, President Obama opened the door and welcomed them into his office. "All the Scouts gasped and were speechless," said Satomi. "Before our visit, I studied photos of the Oval Office but while I was in the Oval Office I only saw President Obama. He was inspiring and a very good listener. I'll always remember my visit with the President." Obama congratulated them on achieving the Gold Award and told them that he looks forward to seeing what good things they will do in the future. President Obama recognized Girl Scouts founder, Juliette Gordon Low with the highest civilian award, the Medal of Freedom during this 100th anniversary of Girl Scouts in America.
In March 2012, Satomi was selected to be a Girl Scout Great, someone who inspires others. She has been a scout for 13 years and is currently a Girl Scout Lifetime member. She will be heading off to Japan to study at Temple University, Tokyo campus to improve her Japanese speaking skills and plans to pursue a career in fashion design.
Satomi said, "With the support of my advisor Patty Nagano, I was able to share the documentary, Stand Up for Justice: The Ralph Lazo Story whichgave me an opportunity to share how a Mexican American teenager made the decision to accompany his Japanese American friends to the Manzanar concentration camp because he did not think it was right for the Japanese to be sent away." Satomi made seven presentations and held discussions at the Monterey Park Library Teen Club, East Los Angeles Community College, Monterey Park Language School, Brightwood School Girl Scouts Troop, San Gregonio Council Girl Scouts Troop and 2 neighborhood presentations. The neighborhood presentations included many neighbors who were interned during WWII.
Nagano, a member of the Education Committee of NCRR commented, "We are very proud of Satomi and her accomplishments. Satomi is a perfect example of why the film was made - to inspire youth to stand up for justice."