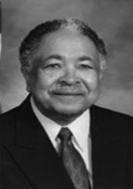 Mervyn Dymally was born in Trinidad and arrived in the US at the age of 19. He was elected the first foreign- born black California Assemblyman in 1962, first black California state senator in 1966 and first black lieutenant governor in 1974 under Gov. Jerry Brown. Dymally introduced redress legislation in 1982 that sought individual monetary reparations of $25,000 before the Commission on Wartime Relocation and Internment of Civilians (CWRIC) issued its findings. The bill did not pass, but it provided impetus for this issue among members of Congress.
The CWRIC released its report, "Personal Justice Denied: in 1983. Its recommendations included individual monetary reparations of $20,000. House Majority Leader Jim Wright introduced a bill incorporating the commission's recommendations. The bill was reintroduced in 1985, passed by the House in 1987 and signed by President Ronald Reagan in 1988. Mervyn Dymally was instrumental in our organizing during our historic 1987 lobbying trip to Washington DC by 141 NCRR and supporters.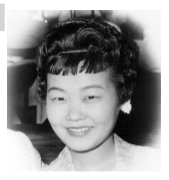 Toki Shiroishi passed away on October 29th after suffering a second and major stroke. She was born in Tokyo. She was brought up by her brother since her birth parents passed away when she was very young. She married Tom Shiroishi (a long haul truck driver and fervent NCRR supporter) whom she met while working as a waitress
in Little Tokyo. She had a son from a former marriage and had a son and daughter with Tom.

Toki and Tom went on our historical NCRR 1987 lobbying trip to Washington DC where we lobbied members of Congress for the passage of the Civil Liberties Act of 1988. Toki loved traveling and went solo to Egypt, Vietnam, China, Europe and Peru after Tom's
passing in 1990.

She single-handedly arranged funding for a couple of lunches for NCRR members to congratulate us for our work on redress. She loved nature and traveled with Tom and their children to visit the National Parks.

Toki was fiercely independent, strong-willed and self-sufficient. She did things her way and made no apologies about it. She was very unique and will be missed by her children and grandchildren and all of us in NCRR.