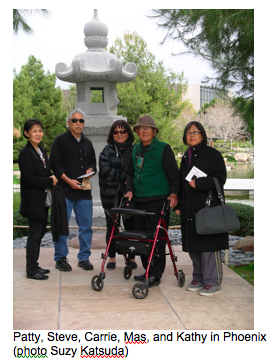 2012 Education Committee activities began on a high note on January 20 with a Phoenix, Arizona screening of Stand Up for Justice, the Ralph Lazo Story. At the invitation of Ted Namba and the Phoenix JACL, NCRR presented the Lazo film to an appreciative multicultural, multigenerational audience at Phoenix College. The program included a taiko performance by Ken Koshio, the screening of the film, and a panel discussion with NCRR's Kathy Masaoka, two internees, Marian Tadano and Mas Inoshita, and Peter Garcia, president of the Victoria Foundation. Five NCRR members (Patty and Steve Nagano, Carrie Morita, Suzy Katsuda, and Kathy Masaoka) flew to Phoenix for the presentation and stayed an extra day or two to learn more about nearby Arizona incarceration sites.
During the year committee members promoted Stand Up for Justice at more than 15 presentations, including teacher-training workshops and community screenings (see the complete list on NCRR's website: www.ncrr-la.org). The Pasadena Unified School District passed a resolution in which Stand Up for Justice was recommended as a resource for Pasadena schools. We were thrilled when we found out that Satomi Honjiyo earned a trip to Washington DC based partially on her Girls Scout project on Stand Up for Justice. She and seven fellow award-winning Girl Scouts met with President Barack Obama in the Oval Office. Then in November Patty and Steve Nagano ended the year by screening Stand Up for Justice at the National Association for Multicultural Education (NAME) conference in Philadelphia, PA.
The committee spent a significant amount of time in 2012 selecting 20 testimonies from the 1981 Los Angeles Commission on Wartime Relocation and Internment of Civilians (CWRIC) hearings for inclusion on the Densho website. The committee reviewed all 157 testimonies recorded by Visual Communications and NCRR in 1981 (compiled in a 13-DVD set called Speak Out for Justice) before selecting the final 20. The 20 chosen reflect a variety of impacts (among them economic, psychological, mental and physical health, family separation, legal, resettlement) on Japanese Americans incarcerated during World War II Densho, Visual Communications, and NCRR signed a restricted use agreement to make the 20 testimonies available on the Densho website. Look for the Speak Out testimonies on Densho some time in 2013.
NCRR and Visual Communications have continued to meet and inform each other on Stand Up for Justice screenings, revenue from sales of the DVD, and activities using excerpts from Speak Out for Justice. Approximately 1800 Stand Up for Justice curriculum guides have been distributed to California teachers. Workshops and screenings will continue in 2013, and we hope to make progress on making Speak Out for Justice menu driven and available for sale.