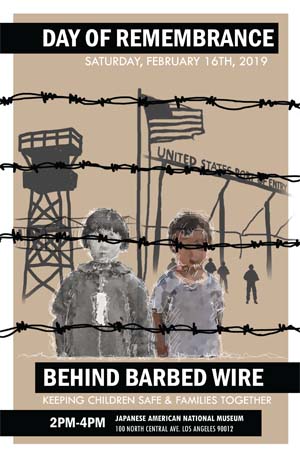 • DOR 2019 was held
Feb 16th
---
• NCRR Celebrates
Bonenkai
---
• Joint statement on
Trump's
"Zero Tolerance" by
JA orgs.

Click to view Press Release

---
• March 2018
NCRR holds class in
San Diego UC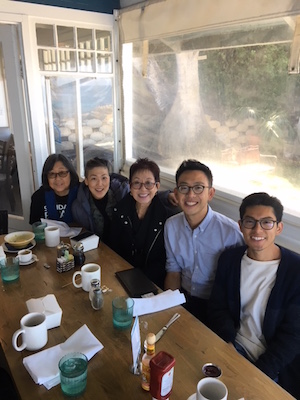 Kathy, Traci and Kay join Professor Simeon Man and
partner, Rudy, at lunch after speaking to Simeon's
Asian American Studies class about the Asian
American movement, redress and solidarity work
today. The class of about 150 students saw Steve
Nagano's 8 minute video on the Commission Hearings
and were led in a haiku writing exercise by traci.
---
• The 2018
DAY OF REMEMBRANCE
was held February 17.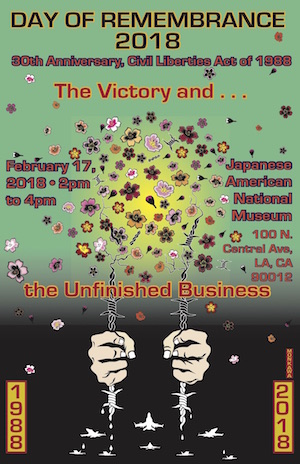 ---
•NCRR Celebrates
2018
New Year!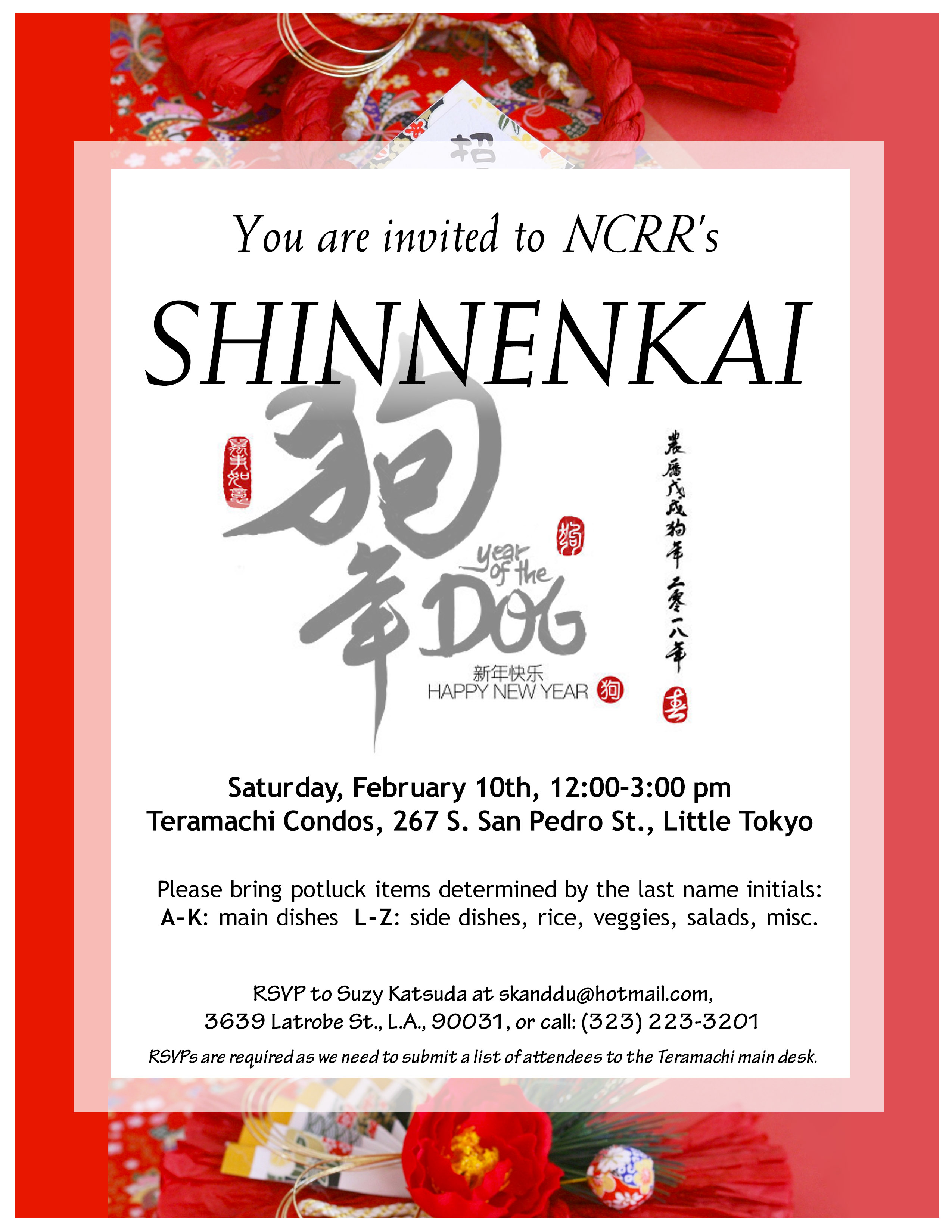 ---
•"SPEAK OUT"
CWRIC Testimonies Revisited
on Dec. 2 in Little Tokyo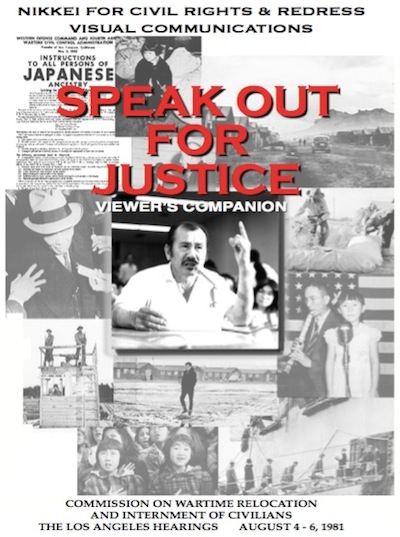 Landmark CWRIC Hearings Reissued by Nikkei for
Civil Rights Redress and Visual Communications
videoscreening was held at the Tateuchi Democracy
Forum at JANM.
Click here to download the
Press Release
---
• "An update on the PULL
project (Tales of Clamor)
with Traci Kato Kiriyama and
Kennedy Kabasares
in collaboration with NCRR."
"Tales of Clamor" is a theatrical case-study that
examines the sound of silence, the echoes of a
little-known yet major moment of American
history, and its universal reverberations in t
oday's landscape.

"Tales of Clamor" utilizes aerial apparatuses,
scenes based in the present and past, and rarely
seen video footage from the 1981 CWRIC Hearings
(Commission of Wartime Relocation and
Internment of Civilians).
Its political texture calls on us to recognize the
need for solidarity and the power of a community
breaking silence in order to create change.
In its emotional core, this show is about people
showing up for each other at a critical moment of
individual and collective need.
The narrative anchor of this show is the duo of traci
and Kennedy- who together explore concepts including
the science of sound, the Model Minority Myth, and,
at the center, the cathartic experience of
Commission Hearings that led to Redress in the 1980s
and creation of
lifelong, intergenerational activists.
Click here to go to the website
---
• A statement by NCRR and
NP on Charlottesville...
---
A Hiroshima-Nagasaki
Commemoration occured on
Aug 5 in Little Tokyo at the
Frances Hashimoto Public
Plaza.

Click here to download the flyer
---
• "A Bridging Communities
fundraising Iftar was held on
June 15th at the JACCC. The
event was sold out with about
150 attending. The hosts were
Vigilantlove, NCRR, MSA West,
C.A.I.R., and JACL-PSW.....
---
•Update on Comfort Women
Statue - 3/7/2017
---
• DOR 2017 was held on
February 18 at JANM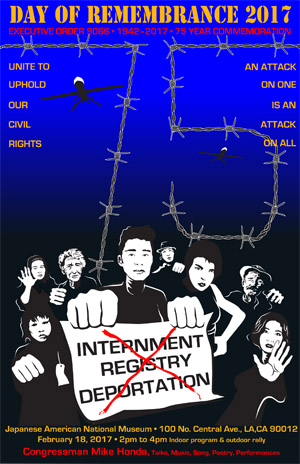 Click to view to Rafu Shimpo
Article

---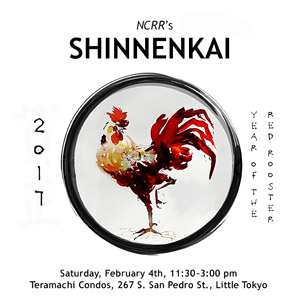 ---
• December 7th Vigil
NCRR Expresses Solidarity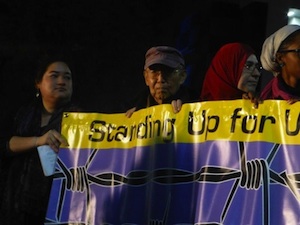 Click here to read the NCRR
statement and photos of the event
Click to read the Rafu Shimpo
article.
---
• I am America-
November 23 Vigil
---
• NCRR at IFTAR-
Retirement Dinner for
Shakeel Syed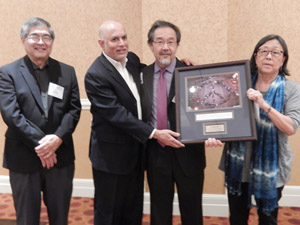 • NCRR at IFTAR-
Breaking the Fast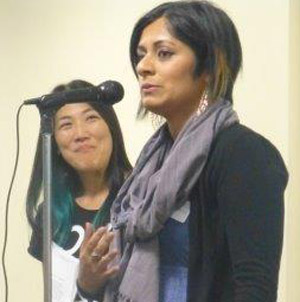 •NCRR organizes a vigil
after the Orlando
massacre.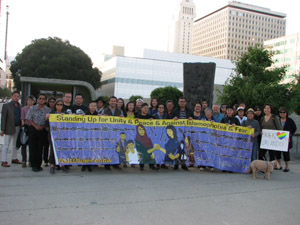 ---
• Alan Nishio receives
Kunsho f rom the
Japanese government.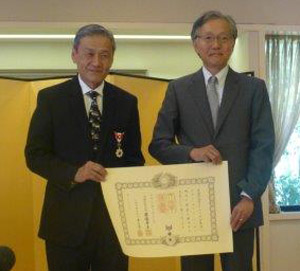 ---
• Day of Remembrance,
2016 was held at JANM on
Saturday, February 20th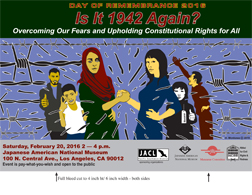 See the Rafu Shimpo article
on DOR
---
• NCRR Welcomes the
New Year.
2016 is the Year of the
Monkey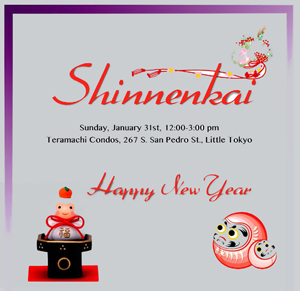 ---
• "Settlement"
on Comfort Women



Statement by the
Nikkei for Civil Rights & Redress
(NCRR)

---

• Compassion-
Not Islamophobia
Statement by NCRR
After several thousand people were killed in the
attack on the Twin Towers on 9/11/2001, over 300
Japanese Americans gathered in Little Tokyo for a
candlelight vigil to show our support to the victims
and families of the 9/11 attacks. Today, we again
express our outrage and sympathy to the people of
Paris, and now San Bernardino as well as
so many others victimized by individuals acting out
of hate and intolerance. We also want to reach out
to the American Muslim, South Asian and Arab
American communities who are being blamed
for these attacks just as they were after 9/11 when
they immediately faced racial profiling and physical
assaults.
Read more of this press release
---

• NCRR to Collaborate on
New Project
NCRR is collaborating with traci kato kiriyama and
Kennedy Kabasares on a new project. They want
to highlight the voices of former incarcerees
who spoke at the 1981 Commission on Wartime
elocation and Internment of Civilians (CWRIC)
hearings held here in Los Angeles. The project will
experiment with unique presentations of these
testimonies in partnershipwith NCRR and in
collaboration with various artists/experts in video
arts, sound, stage and aerial arts
.
Below is a link to our participation goals for the project
which may take up
to 2 years to complete.
Click to download Invitation and
goals letter
---
• DOR 2015
---
• Notes from the
"Power of Commission
Hearings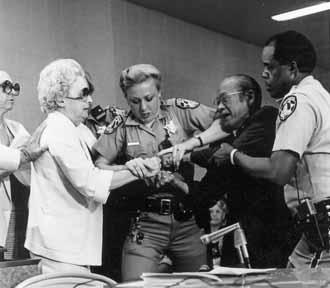 Read more: Click here

---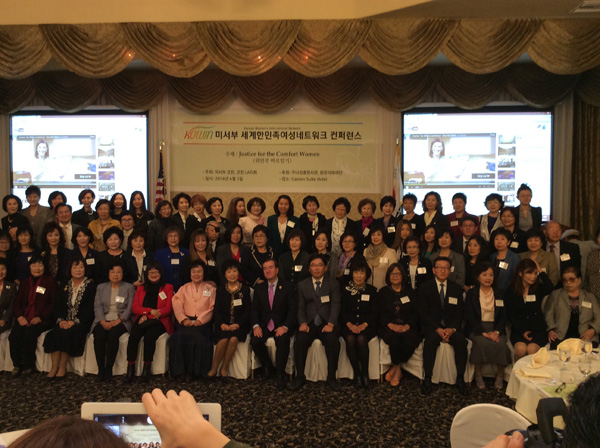 •
NCRR spokesperson,
Kathy Masaoka, presents
NCRR statement at the
Korean Women's International Conference
---
• JAHSSC Goes Out with a
"Bang" for the Community!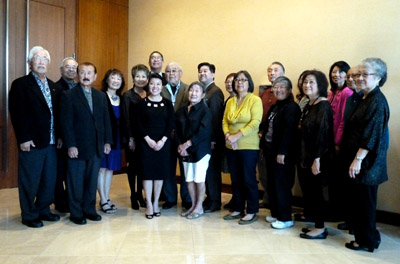 • Read more: Click here


---
• Mervyn Dymally Bust
Dedicated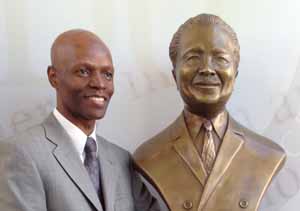 See article, Click here

---
• Day of Remembrance 2014
Generations Speak Out !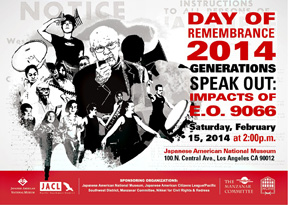 See summary, Click here
Program and Photos, Click here
---
• Purification Ceremony at
the Tuna Canyon
Detetention Center
Read the article, Click here

See a short video on the ceremony,Click here

---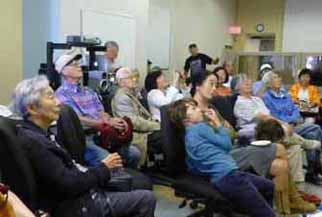 • NCRR Commemorates
the 25th Anniversary of
the CLA 1988
with a screening in Little Tokyo,
August 10th, 2013.
---
• Comfort Women
Monument Unveiled in Glendale, July 30th
Read the NCRR statement, Click here

Read the Rafu Shimpo article, Click here.

See the NBC Channel 4 viseo coverage, Click here
---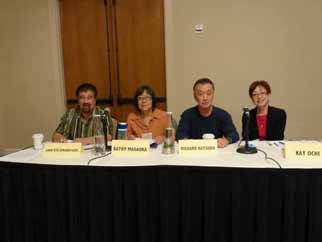 • NCRR Presents a panel on
"The Power of The Commission
Hearings: First Person Voices
of Japanese American
Incarceration"at the Japanese
American National Museum's
4th National Conference
Read More... Click here

---
Tuna Canyon Detention
Station
• Declares Grove at Tuna
Canyon Site a
Historic-Cultural
Monument
---
Preservation at Tuna Canyon,
Verdugo Hills Golf course deal
reached at City Council Meeting
on June 21st.

• Compromise will preserve grove of oaks at site of Tuna
Canyon detention facility.

More info, Click here.
Video, Click here

See a video of an introduction on TCDS, Click here

---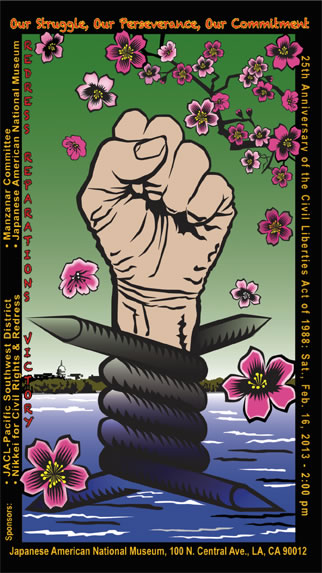 • DOR 2013

25th Anniversary of the Civil Liberties Act
"Our Struggle, Our Perseverance, Our Commitment"
The 2013 Day of Remembrance took place on
Saturday,
February 16
from 2:00 – 4:00 pm at the Japanese American
National Museum in Little Tokyo. The theme of this year's
commemoration is
"The 25th Anniversary of the Civil Liberties Act of 1988:
Our Struggle, Our Perseverance, Our Commitment".
2013 DOR 25th Anniversary Program-
Click here
2103 DOR Program on You Tube-
Click here
2013 DOR interactive slideshow
---